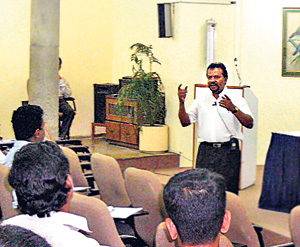 The Overseas Industrial Training Programme was held from April 27 to May 1, 2009 at the Entrepreneurship Development Institute of India (EDI Campus) at Ahmedabad under the topic of "Business Process in Turbulent Times" for the Masters of Business Administration - MBA Kelaniya Batch II. A Group of 50 working professionals from different disciplines together with selected lecturers of the faculty underwent five days of intensive and interactive training sessions.
Market leaders, market practitioners and professionals of India shared their knowledge, experiences and practices on current topics such as the global economic crisis, recession, new HR practices, strategic marketing etc. An Industrial visit also took place at the Doshion Veolia Water Solutions Company in Ahmedabad by Professor Jerome Joseph of IIM Ahmedabad.
The Kelaniya University MBA programme was started in 2006 by the faculty of Commerce and Management which was promoted through the Indo-Sri Lanka Foundation aiming to provide advanced managerial education to leaders working in a dynamic and competitive global business environment. An Industrial visit to an overseas country which is a partial requirement of the programme helps in enriching the knowledge and skills of MBA students and will be beneficial to improve the development of entrepreneurship in Sri Lanka.
MBA Kelaniya Batch II
The programme which was conducted this year for the second consecutive time consisted of academic and interaction sessions, research work and a foreign industry visit component to enhance the foreign industry exposure of the students.
- Kumara Gajanayake and
Madumi Perera