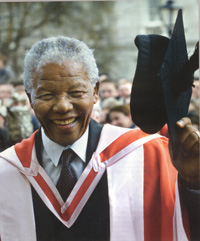 Nelson Mandela
In 2008 the London University celebrated its 150th Anniversary. James Sharuka Perera, a Sri Lankan who had completed graduation has written in the special anniversary publication by the University of London External System: " I chose to read for the University of London LLB because of the high standards and the fact that the degree would be recognised anywhere in the world." He is now a barrister and solicitor in Australia.
The incumbent Vice-Chancellor, Professor Sir Graeme Davies himself arrived in Colombo in February this year for the convocation ceremony of the students who graduated from the University of London having read for the degree through the Royal Institute, Colombo. The event was organised by the Royal Institute at the BMICH.
Meanwhile both world renowned leaders -Mahathma Gandhi and Nelson Mandela- graduated from the University of London. Nelson Mandela was a unique case. He read for LLB (London) degree as a political prisoner in South Africa.
London University has produced Nobel Prize winners, famous writers and scientists. Charles Dickens, Thomas Huxley, and Sir Fredrick Hopkins (Nobel Prize winner) are among them.