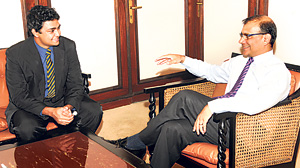 Ajit Gunewardene Deputy Chairman of Lankan blue chip John Keells Holdings PLC (Royal College Group of '72 and University of North Carolina Greensboro Class of '82) recently welcomed fellow Royalist Yasas Ratnayake (Deputy Head Prefect 2007/8) on the occasion of Yasas being accepted to St.John's University in Central Minnesota USA with over 50% outright grant.
Yasas, having sought Priyanthi Dissanayake's assistance was rewarded with two excellent offers (SJU & Otterbein) within hours. Priyanthi Dissanayake (www.scholarshipsforusa.com) works with 23 top American universities who offer amazing financial aid packages, most affordable costs and instant acceptances to every student counselled by her.
Since 2001 she has placed over 100 students from all corners of the island making US higher education accessible to a larger number of Lankan youth as never before. Yasas would be Priyanthi's fifth student at CSB/SJU making a perfect ethnic/geographical blend with her previous placements; a Tamil student from Jaffna, two Sinhala students from Anuradhapura and Colombo and a Muslim student from Dehiwala. Steeped in over 150 years of Benedictine values CSB/SJU offers an excellent private Liberal Arts education at an amazing cost to every student introduced by Priyanthi Dissanayake. CSB/SJU is ranked among the top 100 Liberal Arts and Sciences Colleges across U.S. by the "US News & World Report".