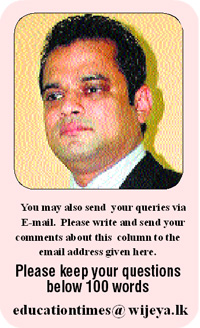 Q:I'm a 25 year old AAT qualified finalist and a first year external degree student on Business Administration. I hope to start ICASL exam but still I have been unable to do it. I'd like to work in the accounting sector but I have only 6 months' working experience as a Trainee Computer Operator and 2 months' working experience as a Multi Duty Clerk. I'm unable to find an audit firm for getting experience.
Can you give me an idea in what sort of a company ( audit firm or non audit firm) I should work to get the experience?
I would be thankful if you could suggest any other examinations which I should do to get the experience I need.
Rasanjali Perera
Via Mail
Dear Rasanjali,
A:I have said this many times before, your focus should be on three areas:

Identify what you really want to be
Exemplify your competencies
Amplify this through value addition
If I take the above and apply it to your situation, you have three options, you could start work at an audit firm, look for options in a cosultancy house that has the accounting value addition as well as look for a trainee position in a reputed organization, where this exposure would give you the necessary value addition to your CV. It seems that you have focused too much on building your academic profile and less time on building experience.
To exemplify your knowledge you should use the next three years to get the best exposure in multiple areas, this is where working in a consultancy or audit firm would help you , where you can work with multiple companies and use all of it in your CV.
Amplification come in areas where you could add further value to your competency profile , for example AAT may be a functional qualification and CIMA/ICASL may add further value to your strategic thinking process. You may even explore your weak areas and add the qualification in this area , for example leadership.
So go on and seek to exemplify your qualification.
Q:Dear sir, I completed my A/Ls and got 3Cs in the Commerce stream. I need to obtain an MBA from a recognized institute. I wish to know with what qualifications I can enter for MBA and in what stream in MBA? Do I need to have some work experience to qualify for this? I wish to become a CEO sir. Please guide me to follow a suitable course and the work experience that I should possess.
Venura Dissanayake
Ampara
Dear Venura,
Great to see you writing from Ampara, and congratulations on your A/L results.
A:I need to highlight a few areas of best practice for the leadership role of a CEO, which needs to be a balanced one having the right mix of Marketing, People, Operations, R&D and Financial and project management competency and these are hard areas, you also need to develop the softer areas which may include Time Management, Relationship Building and Negotiation skills to name a few .Ultimately you need to build your Leadership style which can be unique to each individual.
Taking a critical look at your questions I see three roadblocks:
You do not have a professional qualification
You do not have the necessary work experience
You want to run before you learn to walk
My suggestion is a four- step process:
You need to add on a professional qualification, where this would help you to build your qualification profile for the MBA
Start with a blank sheet, since you have the age advantage but do not have the qualification, you could set yourself a goal to hit the top at 35, this way you have the time to map out your priorities
Based on this you can opt to finish CIMA or hop on to CIM or any related qualifications where you would get the necessary line in to the MBA

It is crucial that you also build your experience profile, during this time period. So do your research.
Leading Marketer and reputed lecturer M. Failan Saleem answers your queries on career and education guidance every week. All you have to do is write your question to the point and briefly on the coupon below and mail it to:
Career Guru,
Education Times,
Wijeya Newspapers Ltd.
No. 48, Park Street, Colombo 2.
to reach us on or before every Thursday.
Please note to attach a coupon with every question. If a question has been asked earlier please indicate date of publication with the new query.