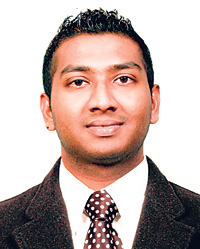 Israth Ismail
During recent times, we have seen mammoth developments in information and communication technology and unprecedented growth in e-Commerce and 'web 2.0'. For example, Facebook.com was an obscure little website at its inception in February 2004. It has now become a worldwide social phenomenon available in over 22 languages with an annual revenue of over 150 million USD. Its founder Mark Zuckerberg aged 24, is a Harvard dropout, the youngest self-made billionaire in the world with a wealth of 1.5 billion USD and a key person behind the successful online campaign for Mr. Barack Obama.
This is a good example what the World Wide Web can do to a business. In fact, the success of Facebook and Mark Zuckerberg gives an indication about the direction in which the wind is blowing in the global economy. As indicated by this example, the World Wide Web has become a major area of business development during the past few years. E-commerce is fast becoming the new mode of business and the best of corporate giants have already gone 'web 2.0' to utilize the unparallel opportunities offered by these new developments.
In this regard, technology plays a major role. For example, customer interaction is a key element in today's online business. Customers no longer rely on vendor websites for information relevant to their buying decisions. Instead they use reviews, blogs and other methods commonly available in the internet. Thus, vendors need to make sure that they somehow attract customers and lead them to buy a product. Hence, interactive technologies such as Flash, Flex and Silverlight play a major role in disclosing information at this level.
These technologies give the added flexibility of making the customer a part of a unique product experience. For example, most mobile phone manufacturers give their potential clients opportunities to use their preferred mobile phones in a virtual environment. Even most vehicle manufacturers provide such facilities. Also, the advanced web applications available today are capable of providing highly customized services to users based on their region, language and other demographic criteria.
Another aspect of this new phenomenon is the use of rich media. Rich media is considered to be a very important aspect in today's online marketing methods. Many vendors provide video reviews for various products ranging from mobile phones to armoured tanks. In fact, such methods have proven to be very successful with the heavy information saturation in the World Wide Web. Viewers prefer to watch a video or a Flash presentation instead of reading through a long product catalogue or a product review. As a result, we can see some creative rich media content geared at attracting users and encouraging them to make a purchase. Cellular service vendors usually lead the pack in this regard.
Combined with social networking utilities such as link sharing, bookmarking and widgets in general, rich media and interactive technologies can give a business definite advantage over the competitors. The success of such a campaign lies in its creativity and aggressiveness. There have been many instances in the recent past where even the large conglomerates used 'out of the box' concepts to popularize their products.
Taking a leaf out of their experiences, businesses can align their corporate objectives with the cutting-edge technology to increase revenue earned through e-commerce. With the current market trends which predict a heavy leaning towards online marketing in the coming years, all businesses should think about online marketing more profoundly. For example, the value of internet sales by UK businesses rose to £130.4bn in 2006, an increase of 29.1 per cent on the 2005 figure of £101bn, according to estimates from the Office for National Statistics (ONS).
Therefore, businesses regardless of their specialization should make use of this burgeoning trend. It is no longer relevant to have a static website to give away product or service information and contact details. Instead it is a worthwhile effort to take the trouble to come up with an e-commerce web portal and make use of this ever increasing trend of online marketing.