Australian Education International (AEI) supports the suntainable development of a world-class and globally connected international education and training system in Australia. As the international arm of the Australian Government's Department of Education, Employment and Workplace Relations (DEEWR), AEI forges people to people and institution to institution linkages in education and training for mutual benefit.
Ms. Hemlata Sharma, Advisor from the AEI, South Asia Office in New Delhi, visited Sri Lanka in March 2009 to meet representatives of Australian education service providers including institutions that provide Australian programmes in Sri Lanka.
Her visit also involved meeting with potential local organizations in the education sector to discuss opportunities for collaboration between two countries. AEI successfully launched the Australian Alumni Association in Sri Lanka March 16, 2009 at the Taj Samudra with the presence of Her Excellency Kathy Klugman, Australian High Commissioner to Sri Lanka. Her Excellency addressed the gathering and highlighted the high quality of Australia's education system, courses and institutions.
Australia has become a popular destination for Higher and Vocational education among Sri Lankan students. Features such as quality education, technological know-how, easy accessibility, low cost and a safe and comfortable environment are some of the unique aspects that make Australia a preferred destination for students from Sri Lanka.
AEI said "In the context of International students studying in Australia, Sri Lanka has moved from its 16th position in 2007 to 15th position in 2008 in terms of terms of both enrolments and commencements in Higher Education and VET and has been growing strongly in recent years. Between 2005 and 2008 enrolments grew by 109.31%."
Through its Endeavour Scholarships and Awards programs, the Australian Government offers international students merit-based scholarships and awards for citizens of the Asia-Pacific, Middle East, Europe and the Americas to undertake study, research and professional development in Australia. This year about 12 Sri Lankans have received Endeavour Awards under the four important categories:
Endeavour Postgraduate Award
Endeavour Research Fellowship
Endeavour Vocational Education and Training (VET) Award
Endeavour Executive Award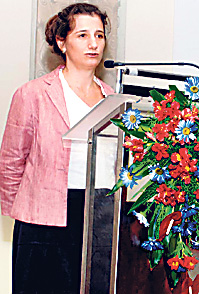 Her Excellency congratulated the Endeavour Awardees present at the launch and they shared their experiences with those present.
Dr. Manori Amarasekera, an Endeavour Awardee who is currently working as a lecturer in the Faculty of Medicine, University of Kelaniya, said "When I found that the field "Allergy & Immunology" was not well developed or established in the country in terms of medical practice and research, I realised that I must contribute my effort to build this field. I decided that I should pursue my research in this field, even though I knew I had to start from the beginning with the little knowledge and skills I had. Lack of expertise and facilities to do research in "Allergies" in my home country was a barrier for my ambition. The Endeavour Award given by the Australian Government became the helping hand for me to cross this barrier."
She further stated that "To be awarded an Endeavour Award is the most exciting thing that has happened in my academic life. I undertook the award in 2007 where I spent 2 months in the Department of Allergy, Immunology & Respiratory Medicine at Alfred Hospital, Melbourne. It was an opportunity for me to study, research and develop linkages with well known professionals in the field. In academic terms, the award allowed me to learn new laboratory techniques in allergy diagnosis, observe how an Allergy Clinic is conducted in the hospital, and how the patients with allergies are being managed.
Back home, I was able to complete my research project focused on allergies with the knowledge and skills I gained from my visit. I was able to represent Sri Lanka at some of the prestigious conferences held internationally. Now as a Council Member of the "Allergy & Immunology Society of Sri Lanka", I give my fullest support and contribution towards the activities to develop better facilities for research and patient care in "Allergy". The Endeavour award was professionally handled at all stages. Thanks to this award, so many doors have opened for me. The experience was a profound impact on my future career".