When the best of Bavaria was brought to Colombo doorstep
View(s):

Hospital Street in Colombo is probably still attempting to recover from the four days of Bavarian excitement brought by Fairway Colombo Oktoberfest 2018. Taking place for the second year, the festival brought out the best things German, food, brew, music and dance, combined with the local party spirit.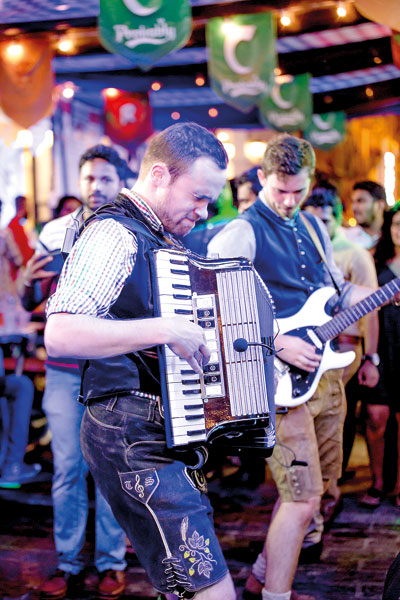 Decked in the traditional blue and white, the street adjacent to Fairway Colombo gave out a festive vibe, inviting even passersby to stop and watch.
The scrumptious German food were a plenty ranging from the favourites such as pork knuckles, roast pork and chicken, bockwurst and saurkraut, potato salad, fish and chips, salads and pretzels, along with a generous flow of brew adding to the fun and frolic.
The German band HiLight kept the crowd on their feet until midnight, throughout the festivities with their rendering of popular folk and modern pop hits. Guests took up challenges in a variety of games like beer drinking, sausage eating and Steinholding, and winning amazing prizes.
Fairway Colombo along with the partners Oman Air, the Dutch Pub and FriMi created one of the best Oktoberfests Colombo has witnessed.