Bringing out her Lankan roots in her jewellery
By Sashini Rodrigo
View(s):
A piece of jewellery is often a piece of art, and in the case of Muthu Jewellery, every piece tells a story of culture, identity and aesthetic beauty.
The brand is the brainchild of Thilini Godamanne, a 28- year- old Sri Lankan-born Australian citizen. Her creative force and deep appreciation for her cultural roots helped her start her jewellery line in Sydney, that she has now brought to the PR Concept Store in Colombo. She shares her journey with the Sunday Times.
 What inspired you to start making jewellery, and then to launch your own business?
Making jewellery was initially a hobby and creative outlet for me that started in high school. I would hand make beaded necklaces as gifts for my friends. It wasn't until years later in 2012 when I had the opportunity to collaborate with renowned Australian Jewellery Designer Samantha Wills, that I designed a ring and necklace [under the name 'Manik'].
From this experience onwards, I decided to focus the remainder of my University Design degree on Jewellery and Metal Work. I started working in the industry to gain as much insight as I could, whilst also networking and getting exposure to the business side. Through these experiences and new contacts, I was able to discover what it would take to start my own brand. After countless hours of hard work, I launched my first collection for MUTHU in December 2014.
What has running your own business been like?
When launching my brand, I hadn't yet completely processed what it would take to run a business all on my own. But I think that naivety at the time helped me to take that leap without being afraid or overthinking it too much.
The cons are part of every line of work, and for me it is being a solopreneur and having to run almost every aspect of the business on my own. It can feel quite daunting knowing that I have all that pressure and responsibility on my shoulders.
However, there are wonderful pros such as the creative freedom that I have, the flexibility of my working days and the networks I have formed which have allowed me to meet and collaborate with some of the most amazing and talented people!
Your brand and designs are heavily inspired by Sri Lankan culture and imagery- What is your connection with Sri Lanka like?
Having grown up in Australia nearly all of my life, there were many moments where I would feel the need to change who I was to fit into western society. Thankfully, as the years passed, I grew a deeper understanding and appreciation for where I come from and am most certainly proud of that.
I am truly blessed to have travelled back to visit Sri Lanka every few years, which has kept me in touch with my roots. I have also trained in Kandyan Dance since the age of 10, which is what I believe, has mainly helped me continue to stay connected through the culture of traditional dance.
What aspects of Sri Lankan culture and your personal cultural identity do you want to share with the world?
On a personal level, my mum's father, Muthuraja Saralis, was an artist in Sri Lanka renowned for his Buddhist paintings and statues in temples. He passed away when I was young and it wasn't until my visit to Sri Lanka in 2014, that I saw some of his work for the first time that really resonated with me deeply. I wanted to somehow continue his legacy of Sri Lankan art in whichever way I could and therefore was what sparked the direction for my initial designs.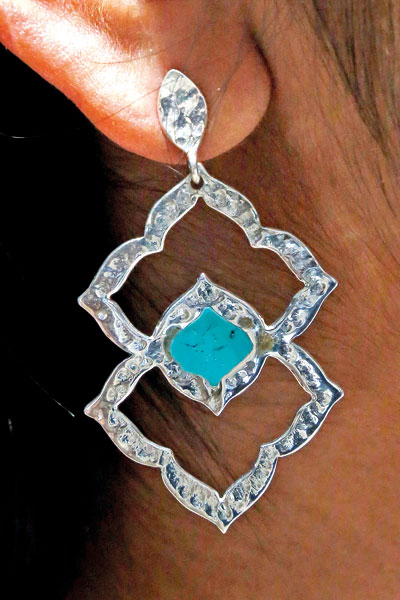 What has the feedback been about your designs?
Since launching my first collection and not knowing how my 'Ethnic Luxe' style would be received, I am very blessed to say I have had a positive response by both Sri Lankan and non-Sri Lankan customers. Sri Lankans that stumble across my designs would have that emotional connection to their roots back home, whilst many Australians are also able connect with some of the shapes or patterns that they remember seeing on their travels.
Tell me a little about the specific inspirations for your designs
When someone is drawn to my designs, I am so happy to be able to explain the meaning behind it and take it away from being just an item of jewellery to wear and to educate and create an emotional connection that they can then carry with them and share with others.
The Moonstone artefact is a classic example of the deep iconography and symbolisms that ancient Sri Lankan designs incorporate. From a young age, the Moonstone always fascinated me in particular, whilst visiting temples and ancient ruins such as Anuradhapura and Polonnaruwa. I loved the intricate carvings and seeing the variations between regions.
Though there are a few different symbolic rings within the Moonstone. In my necklace design I chose to focus on the centre of the Moonstone, being the Nelum Mal (lotus flower). I loved that it represents enlightenment and peace, which was a positive message I wished to share.
What are your future plans for the brand?
My ultimate fulfilling goal for MUTHU is to use this platform to work closely with social enterprises, charities, support local communities, fundraisers and create awareness for specific topics which I am passionate about through my work.
Do you have any advice for young entrepreneurs who are trying to find their footing in the world?
Believe in yourself and always pay attention to your intuition. Take that leap towards your goals and dreams, as there is only one of you and that is your power. Your ideas are unique as long as you stay authentic to yourself and realise that this is what will help you stand out of the crowd – to be seen, to be heard and to be different.
Success will then follow organically.
A handpicked selection of MUTHU can be found exclusively at the PR Concept Store, 41 Horton Place Colombo 7, as well as on their online store at www.muthujewellery.com