Three dramas from Parakrama Niriella's 'Janakaraliya'
View(s):

Janakaraliya theatre group performs three dramas , 'Thitta Kahata' (Bitter Nectar), 'Hiru Nagena Thuru' (Until the Sun Rises) and 'Andura saha Eliya' at the New Theatre at Anuradhapura Central College on October 17 and 18. While 'Thiththa Kahata' performs at 2.30 and 6.30pm on Oct 17, 'Hiru Negenathuru' and 'Andura Saha Eliya' will be staged at 6.30 on Oct 18. The organisation "Sulawath Paura" from Anuradhapura is organising the performances.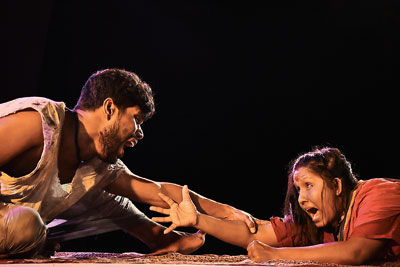 Both 'Thitta Kahata' and 'Hiru Nagenathuru' are created by Janakaraliya Drama Group under the leadership of Parakrama Niriella. Both performance and production of the three dramas are byJanakaraliya Theatre group which comprises of Rasiah Lohanathan, Sumudu Mallawarachchi, Sevaraj Leelawathie, Ajantha Shanthakumar, Sarath Banagala, Arosha Tharangani, Devran Sri Livera, Inoka Lankapura, Ruvini Dilanthi, Praneeth Jeevantha, Vijith Hettige, Palitha Abeylal, Amila Dinesh Kumara, Thilini Nimesha and Madeera Udishani.