'Welcome to My World' Janaka is back in action in Sri Lanka
View(s):

Janaka Palapathwala, is back in Sri Lanka, after three years of touring around the world, for a grand concert on October 23 to bring to life the old time favourites of Elvis Presley, Tom Jones, Engelbert Humperdink, im Reeves etc. The Concert is titled 'Welcome to My World' and scheduled to be held at the Bishop's College Auditorium from 7.00 pm. onwards.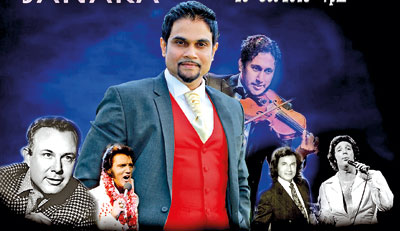 The show is being organised in association with 'Sight First' team of the Lions Clubs International District 306 C2, in order to raise funds to perform one thousand Cataract Surgeries on the needy people of the society.
Once Janaka was known as 'The Elvis of Sri Lanka' but afterwards when he diversified his repertoire singing Jim Reeves, Tom Jones, Neil Diamond, Don Williams, Engelbert Humperdinck etc , the fans around the world embraced him as the best answer to the Legendary Gentleman Jim Reeves. Janaka had held 'Sell out' Concerts in last couple of years in many parts of the world such as Canada, the United States, United Kingdom, Holland, Australia and New Zealand.
Distant Drums, From a jack to a king, Mexican Joe, Yonder Comes a Sucker, Delilah, Burning Love, Judy, Jailhouse Rock, Rhinestone Cowboy, Sweet Caroline, The famous Engelbert Medley, Italian O Sole Mio are some of the songs that are lined up for the show.
Young Maestro Dinesh Subasinghe and his entire orchestra will be backing Janaka while 'Revelution' the Western Choir of Colombo University will sing the harmonies. This is the third time Janaka performs with such a big orchestra. 'Kalashuree' HarshaMakalande and the veteran Music director Suresh Maliyadde's orchestras backed Janaka as in his previous concerts in Sri Lanka.
Janaka was interviewed sometime back on UK hit radio programme 'The Inspirational Voices' which also played his songs for 45 minutes. The programme was hosted by highly acclaimed Jillian Haslam and Alan Cox. He was also on '6EBA World Radio' Brunch Time programme, which is one of the most popular programmes in Australia, hosted by Gordon Stacy, Laura and Michael.
On popular demand, in the following week, he was also featured on a repeat programme on the same channel titled 'The Goan Show' hosted by Delfino, Harvey and Charmaine.
On a request by the fans unable to attend the concert in the UK, Australia and Holland, among other countries, a special video edition of the live programme was aired as a production of the NCCSL.
Janaka will be performing a host of Jim Reeves' hit songs including 'Welcome to my world' , 'Blue side of lonesome', 'Bimbo', 'Mexican Joe' and 'He'll have to go'.
Tickets for 'Welcome to my world by Janaka' are available at Bishops College Auditorium, Torana Liberty Plaza, V& I Opticians Dehiwala, Yamaha Music Centre, Ticketslk.com and all their franchises.
For inquiries contact James on 0777889868 or Manik on 0773731117.