'En Route' to more Jazz classics
By Tarini Pilapitiya
Jazz band led by Dr. Gananath Dasanayaka speaks to the Mirror Magazine about the final installment of their series 'The Great American Songbook' and keeping this genre alive for the generations to come
View(s):
"We're still en route!" playfully jibes pianist Dilip Seneviratne of the four piece Jazz ensemble "En route" as they prepare for the final installment of their series 'The Great American Songbook'. Taking place October 20, at the British School Auditorium, En Route aims to bring a bigger spotlight to the local Jazz scene.
The band has undergone some transformations from their first concert as Dr. Gananath Dasanayaka remains the only founding member to date. At present En Route compromises of members; veteran musicians Shobi Perera on bass and Dilip Seneviratne on piano whilst Charith Fernando mans the helm as the band's drummer.
Performing together for some time and individually with other well known musicians, En Route is well known for serenading the lobbies of renowned hotels in and around Colombo. Dr.Gananath shares, "It was 7 or 8 years ago when hotel lobbies first started looking for this type of music." As Shobi recalls the merriment in the lobbies which would back then play danceable numbers from baila to pop was later replaced by Jazz groups and string quartets. Currently En Route inhabits the Hilton lobby every Thursday from 8 pm to 12 am crooning to the 'Blue Skies' of Colombo.
Formalizing the band in February 2014 were founding members Dr. Gananath Dasanayaka (lead vocals/ saxophone), Debbie Arnolda (piano), Maxi Pietersz (bass) and Niroshan de Silva (drums). Shobi who was coincidentally initially considered for bass couldn't commit at the time because of prior commitments to 'Sohan and the Experiments'. The band performed 2 volumes of The Great American Songbook prior to Dilip joining the band in 2016.
En Route, meaning in transit, formed its moniker by a series of spontaneous yet intermingled events. Dr Gananath a stickler for the classics, picked up a 'route 66' number plate as a souvenir from a holiday in the US. The romanticized route which runs between Chicago and Los Angeles through the heart of the US, led the saxophonist to "Get his kicks on route 66" hanging the memento in their practise room. Gananath explains that the fourth volume of the series, will expand to take on a 'big band' concept by giving reign to guest performer Lelum Rathnayake to man the percussion accompaniments, as former band mate Ramesh Nonis will also makes an appearance on guitar as Madawa Perera tickles the ivories of the keyboard.
Seasoned musician Sureka Amerasinghe will step in to play the flute in two scores and Mazi Rozario will do a guest spot on vocals we're also informed. Dr. Kovindu De Seram, will take on his much loved stage presence of Dean Martin again, whilst also trying his hand at some impressions of the iconic Sammy Davis Jr. as well. "He has an incredible stage presence," Gananath shares adding that from the positive reception of his past performance on the Great American Songbook, Kovindu has now become a much anticipated part of the show. Ideally embodying an atmopshere of a vegas-esque setting aptly brought out by the warm ambiance of the British School Auditorium, En Route gets up and personal in their performances with classy one liners, humorous anecdotes, tidbits of information and a rat pack like panache in delivering performances making this a concert you wouldn't want to miss out on! Another reason to not miss it is it might sadly be the last under the title of the American standards we're informed, the band looking into exploring new repertoires for future performances.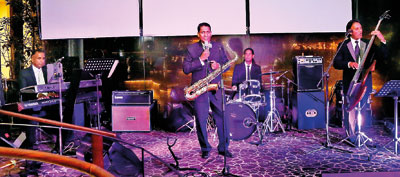 The novelty of creating something new continues to excite Dilip who shares that all it takes is a quick glance, a non verbal cue or even just a feeling for one musician to change the rhythm and the others to follow suit. "Everyday its something new" he says adding "we're doing our part on keeping this genre of music alive," Dilip says .
"Even though it may not be the mainstream music Jazz is still as relevant today as it was in the past," Charith shares adding "local audiences need to realize that Jazz is a repertoire that goes beyond being lobby music." En Route's show goals are very simple, Gananath shares "we want people to sit back, relax and just enjoy the music."
"The Great American Songbook" will take place October 20 at the British School Auditorium from 8 pm onwards. Tickets priced at Rs. 2000 and Rs. 3000 will be available at Park Street Mews. Check out their FB page (@enroute) and The Great American SongBook Vol. 4 FB event page .