Here come the 'dancing queens'
View(s):

Excitement is steadily building up as Cinnamon Life gears up to present Benny Anderson and Björn Ulvaeus' world-famous Broadway musical 'Mamma Mia!' in Colombo this Christmas season. The popular musical will be staged at the Nelum Pokuna Mahinda Rajapaksa Theatre from December 22- 30.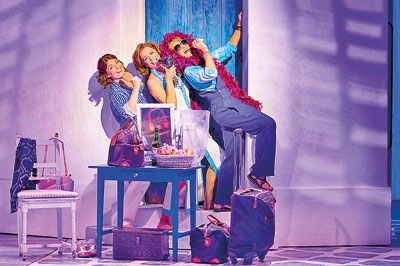 Performed for the very first time in South Asia in collaboration with Little Star Services (Europe), the cast of this musical comprises acclaimed performers who will bring the best of Broadway and West End productions to Colombo. Little Star Services was formed in 1996 by Judy Craymer, Benny Anderson, Björn Ulvaeus and Richard East to produce the stage musical Mamma Mia. Based in London, Little Star is now a successful global producer of theatre, film, television, publishing and music.
Here for theatre fans is a look at the star cast of 'Mamma Mia!':
Shona White – Donna Sheridan
Taking on the principal role of 'Donna Sheridan' is talented actress Shona White who incidentally is the first actress to have played both the mother and daughter roles in this smash-hit musical.
Having first played 'Lisa' in the London production of Mamma Mia! in 2002-2003, Shona later went on to star as 'Sophie', and most recently appeared as 'Alternate Donna' at the Novello Theatre between 2014 and 2016. A few of her main roles include 'Leda Fox-Cotton' in I Capture the Castele, 'Woman' in The World Goes Around, 'Florence Vassy' in Chess, 'Betty' in Shout and 'Miss Gordon' in Merrily We Roll Along among many others.
Shona has also appeared as a soloist cabaret and concert artist who released her debut album I'll Bring You a Song in 2011.
Lucy May Barker – Sophie Sheridan
Playing the role of bubbly, free-spirited 'Sophie Sheridan' is British stage and screen actress Lucy May Barker. Mostly known for her role as 'Ilse' in the original London cast of the four-time Olivier Award-winning Spring Awakening, Lucy has also appeared as 'Marina' in Earthquakes in London as well as 'Millie' in Really Old Like Forty Five, both of which were on National Theatre in London. She has also played Mercy Lewis in The Crucible, Clarissa in The Reluctant Debutante, Johanna in Sweeney Todd, Cherry Buck in Ben Travers' Thark , Baby Belgrave in Ace of Clubs , Ado Annie in Oklahoma! as well as Betty in Pine.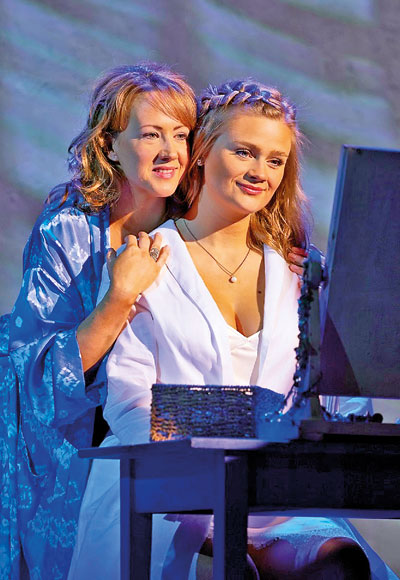 In late 2010, Lucy also filmed a support role in the film The Woman in Black, starring Daniel Radcliffe, appeared in several television shows such as The Culshaw & Stephenson Impressions Show, Scoop! and Doctors and can also be heard on radio dramas such as Lost in Mexico, The Russian Gambler and Charlotte Pollard.
Leisha Mollyneaux -Ali
Trained at the Arts Educational Schools, London and The BRIT School for Performing Arts & Technology, Leisha Mollyneaux is best known for her role as Young Stella in Follies which was performed live at National Theatre, London late last year.
Lottie Henshall – Lisa
Taking on the role of 'Lisa' – Sophie Sheridan's high-spirited and supportive friend and bridesmaid is Lottie Henshall. Having trained at the Mountview Academy of Theatre Arts, Henshall is also known for her role as Jenna O'Brien in the BBC show, Doctors.
Helen Anker – Tanya
Helen Anker is a British actress, singer and dancer perhaps best known for originating the role of Zelda Fitzgerald in the famous musical Beautiful and Damned. Having appeared in numerous London West End and Broadway musicals and plays over the years, Anker takes on the supporting principal role of Tanya – a former singer in the Dynamos and Donna's acerbic and witty friend.
Her long-standing track record in theatre includes playing Miss Olson in Promises, Eliza in My Fair Lady, Guenevere in Camelot, Mrs. Mullin in Carousel and Georgia in Curtains among many others.
Anker's television and film appearances include Holby City for the BBC, White Collar, Law and Order, The Good Wife, Peter Pan Live!, Oklahoma!, Ted 2, and Disney's Cinderella.
Nicky Swift – Rosie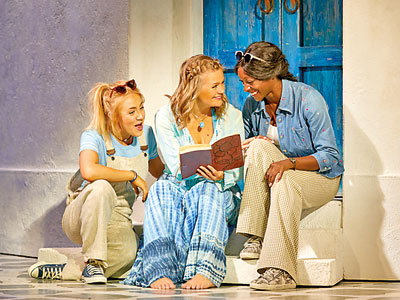 Playing the supporting principal role of Rosie – feminist press writer and trusty friend to Donna Sheridan, is Nicky Swift, a talented singer, musician and actress. Swift has played numerous roles in popular musicals and stage dramas such as Shirley in Shirley Valentine, Ethel/Coach Dunbar/Betty in Footloose, performed in musicals such as Jack and the Beanstalk, Mother Goose, Aladdin, Sleeping Beauty, David Copperfield and Little Red Riding Hood.
Nicky also works as a backing and session singer, supporting iconic names such as Tom Jones, Lesley Garrett, Elaine Paige and Cynthia Erivo. Her television appearances include Hillsborough, Voices Raised, Blue Peter, Sport Relief and The Olivier Awards, while her radio appearances include Loose Ends and New Musicals with Stephen Sondheim.
Next week: Meet the male stars