Sri Lankan Beauty Queen Wins Miss British Empire 2018 Title
View(s):

Dr. Nuwandika Lakmali Wickramarathne-Siriwardena, Miss British Empire 2018 was welcomed at the Bandaranaike International Airport, as she returned to the Island victorious in the International Beauty pageant held in Perth, Australia.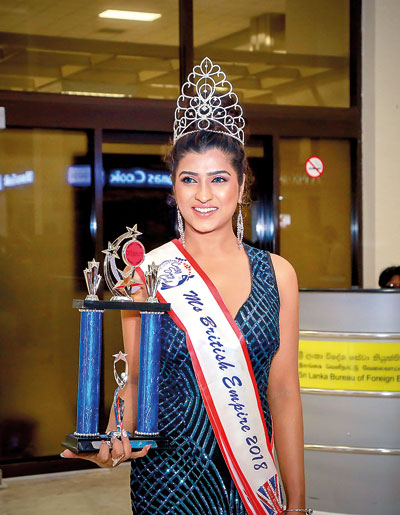 Nuwandika, a medical officer at Divisional Hospital at Nawagamuwa, one of the Board of Directors of Water's Edge Hotel, Brand Ambassador for Sakurai Aviation and the founder of Elegant Cleopatra, a Clothing, Beauty Cosmetics and Fashion brand, was selected to represent Sri Lanka at the 'Miss British Empire 2018' Pageant and she was trained for the event under the iconic Choreographer and Designer, Brian Kerkoven.
The pageant, founded by Miss Great Britain and actress, Liz Fuller in 2011 prides itself in finding young talent and giving them the exposure they need. As the winner, Dr. Nuwandika received the chance to be contracted for modelling assignments in the USA and she has ushered immense pride to the country by competing with beauty queens from 97 countries that were once part of the British Empire and emerging victorious.