Picking the right kind of bread
View(s):

Do you love your bread and butter but worry that perhaps it's not the healthy choice? Popular baker Paan Paan launched a wholesome range of health breads at their flagship store on 84, Lorenz Road in Colombo 4 recently inviting guests to sample the nine different loaves with a variety of accompaniments both sweet and savoury in order to demonstrate the versatility of flavours.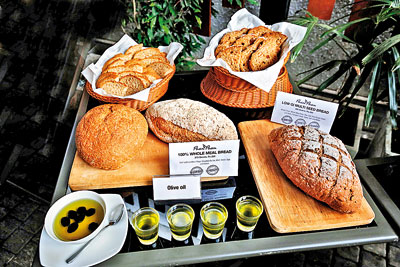 Known for their wide variety of specialty breads and emphasis on freshness and flavour, Paan Paan's new range is baked with high quality ingredients and little to no preservatives with nutritionally superior flours like wholemeal, rye, atta and such, along with a variety of fibrous seeds and oats.
Managing Director Aboo Yusoof explains that when making a health bread, the entire wheat kernel is used, as opposed to just the endosperm which comprises about 83 percent of the kernel weight and is the source of white flour.
He believes that if you choose the right kind of bread, and avoid empty carbs and loaves with too much sugar and yeast, your diet can be significantly improved while still enjoying the goodness of bread.
The range includes two kinds of multi seed bread, brown French baguette, brown kade paan, gluten free, oat, brown sandwich, 100% whole meal, dark rye and atta flour chapattis.
The multi seed bread is available in both normal and low GI (Glycemic Index) versions. The low GI loaf is recommended for weight watchers and those who have sugar issues like diabetes. The normal version includes the same multigrain flour and healthy seeds, with additional sugar and vegetable fat to make the loaf softer for those who prefer that kind of texture.
The dark rye has an interesting flavour and very little carbohydrates. The loaf is made with a half-and-half mix of wheat flour and rye flour, as rye flour has no gluten and therefore does not rise.
For those with gluten sensitivity, gluten free bread is available on pre-order on Tuesdays and Fridays, and is made with potato, maize and rice starch.
The new range is available at all Paan Paan outlets and baked fresh every day.