TNL Onstage – Knockout round
By Tarini Pilapitiya
View(s):
Come rain or shine – TNL Onstage proved that their loyal fans cannot be weathered down! Heavily soaked from the downpour the audience huddled together on October 06 at Disques, Racecourse to dry off with some resounding rock at the TNL Onstage 2018 Knockout Rounds.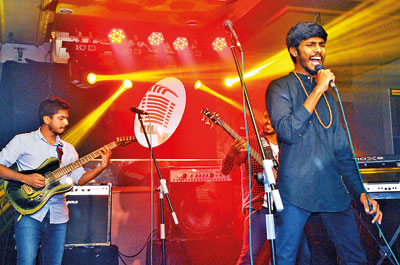 Inaugurated in 1999, TNL onstage has become a well-known English 'battle of the bands' competition which aims to create a platform to nurture local musicians island wide. It is also an organic platform in Sri Lanka where one can physically witness the evolution of the music industry. Showcasing their dexterity in a range of musical genres from Alternative, Hard, Raggae Rock, Pop and even spitting some fast paced verses of rap the performers that evening did not hold back.
The opening act for the evening 'The Odyssey' whose intention remains clear in their namesake of an exciting yet long journey to come. The band certainly got their groove on bringing to the arena their own style of an indi-rock fusion. In their two-song set list the lead vocalist brought out all the feels with an emotionally charged acoustic cover of a 'Wonderful Life' by Alter Bridge and 'Simple Man' by Shinedown bearing raw emotions whilst being backed by some powerful acoustics.
The next competitors left a 'Blaze' after their performance taking on a medley of songs within their time frame with well-known scores like Michael Buble's "Feeling Good" and Alicia Keys "New York" getting fused together with the magic glue of beatbox! Performing together for about a year this musical ensemble brought a blend of acapella andbeatboxing into the evening's talented lineup. What was further surprising about this group was the male vocalist's brilliant attempt at Gamakas (i.e. a type of musical ornamentation used in Indian music, specifically those thrills we hear in beloved Hindi film songs) which did not cease to amaze.
The heavy/progressive rock band 'Trishira' also upped their game with some impressive instrumental and vocal performances. Adorned in what we can only describe as 'Brahmin beads' the frontman's head banging vocals were a far cry from his deceptivecalmouter appearance. A fitting tribute to the genius behind Iron Maiden bassist Steve Harris' songwriting, Trishira proved why some scores remain immortal as they rocked out to "Hallowed be They Name".
Hailing from the hills of Kandy – 'Quadrant', possibly the youngest competitors that evening, showcased their dexterity with two songs from extreme ends of the spectrum in terms ofgenreand time period. Consistently referred to as one of the greatest rock songs of all time, it comes to know surprise why British rock band Led Zeppelin's 'Stairway to Heaven' makes one weary when performers dare to tackle the song. Much kudos must thus be given to Quadrant who really utilized the song's technical yet versatile arrangements. The bands lead vocalist's robust start climaxed into a powerful up-tempo finish as the hard rock arrangement was backed by powerful instrumentals and an intricately executed guitar solo. Quadrant further awed by tackling the genres of disco, soul with R&B elements as they transported audiences back to 2012, more specifically the 1970's, with Bruno Mars funky chart topper "Treasure".
Another first for that night was the Hip-Hop duo the 'D N M Crew'. An innovative and highly entertaining twist, the duo made audiences "Lose Yourself" in the early 2000's adopting the real slim shady's signature fast rap as they spat out verses that could make, Eminem himself hustle.
A definite crowd favoruite, the musical ensemble 'The Blitz' seemed to "bring their whole village with them," the evening's compere Eliot Verar humorously observed – a fact which definitely won them the encore round as fan favorite of the night. A name derived from the German word Blitzkrieg meaning ambush, 'The Blitz' aimed to musically assault the senses of their adoring fans who clamored to hear them perform their own rendition of reggae-rock and American rock duo The White Stripes anthem "Seven Nation Army".
A group of friends who have mainly played in two or three piece settings in the past, the otherwise segregated 'Sky Puppies' formed a full-fledged pack for the evening.
We couldn't really put our finger on this band's genre as they seemed to touch a wide variety of soul, pop, funk etc. Getting their groove on the band played tribute to the 1980's with Hall and Oates's pop single "I can't go for that (No can Do)" (the song which ultimately inspired Michael Jackson's Billie Jean!). Throughout their set the Sky Puppies got many bodies swaying with their catchy harmonies and funky groove. A medley of Led Zeppelin's "Whole Lotta Love" and a unique rock cover of Bill Whither's soulful "Ain't no Sunshine" made them ambitious contemporary contenders that evening as their lingering howls signaled the end of the knockout rounds and a competitionaptly reflecting a growing,evolving music industry.
TNL Onstage Finals will take place on October 20 at 8pm at the Jetwing Colombo Seven. |Tickets priced at Rs. 500 will be sold at the entrance of the venue.
Finalist bands
 Blaze
 D N M Crew,
 Sky Puppies,
 Blitz and the Odyssey