Rapture and laughter: The world and the theatre
View(s):

Ernest Macintyre pays tribute to well known thespian SHELAGH GOONAWARDENE – 1935 – 2013

Looking back, through personal experience, reading around and trying to understand Shelagh Goonewardene,daughter of Terence Richard Jansen and Noble Georgiana Frances Ohlmus Joseph, I now recognize that the first blessing bestowed on her was the sense that life was meant to be finely enjoyed.

There was wonderful laughter, fun and good times giving joy to others.That unalloyed period was long.From her youth at Bishop's College Colombo, through young adulthood at the University of Ceylon,Peradeniya and during her first marriage from1957 onwards.
From about 1962 circumstances began to present her with challenges.

Her first major challenge came at the same time as a landmark political event in Ceylon, an attempted coup in 1962. The end of the marriage to her first love, young Captain Tony Anghie.By the time of her separation though, she had possession of a gift she had received from her divorced first love, a faithful and well understood membership of the Roman Catholic Church, as part of the conversion process of marrying Tony.

As time passed and my association with Shelagh grew I gradually began to see an aspect of this gift she possessed. I identified it as Rapture, in its older wonderful all inclusive Biblical meaning. Experiencing or manifesting ecstatic joy or delight. It gave her the capacity to continue to be able to enjoy her earlier simple gift, that of a love of life, even while moving through troubles. I use the word Rapture to describe the joyousness of her religious life for it was not a forbidding faith. She would have been easy with a man who threw stones at churches and prayed when he passed a pub.

In 1961 Shelagh had been blessed with the birth and bringing up of young Antony her first child. In 1971 she married Ranjit Goonewardene, a Buddhist.Two children, Devinda (1972) and Devika (1974) came into her second happy beginning.

Her first husband gifted her with Roman Catholicism; her second brought her into the environment of Buddhist practice. I still remember Shelagh with a pot on her head, clad in a white saree, walking around the cremation place in Colombo's Kanatte cemetery, in the ceremonies for the funeral of her Buddhist mother-in-law. It came naturally to her for she was truly catholic, universal.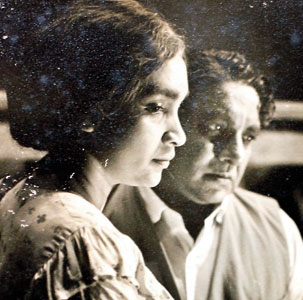 Ranjit her loving second husband died in 1992 of a heart ailment in Melbourne to which city the family had migrated in the eighties.
To return to the Ceylon years, Shelagh did not allow the changing circumstances of her life to deprive the society she lived in of the creativity she could share with them. That creativity of hers, sparked off first at Bishop's College and finely developed under Professor E.F.C. Ludowyk of the University of Ceylon, was in drama and theatre. I cannot extend this tribute by recounting Shelagh's great contribution to her whole society in this human activity. That must be a separate essay or the reading of an existing essay by her very close and lifelong friend Professor Yasmine Gooneratne, in a foreword to 'This Total Art', Shelagh's comprehensive contribution to understanding modern Sri Lankan theatre, published by Lantana Press, Melbourne.
However, I would like to say something about Shelagh's interior communication with theatre and drama. While there is ample record of her contribution in this field, that record comes from the normal exteriorization recognized by others, at varying levels, some perhaps reached by the mystery of the interior. It is not easy to communicate what I hope to, but let me make a suggestion or two. It is true that whether you pray at a remote and generally unknown little church in Sri Lanka or at Saint Peter's in Rome, it makes no difference. Likewise, while Shelagh may have had deep- felt experiences at performances on Broadway or at the Olivier Theatre in London, they would be no different from those in the small theatres of Sri Lanka. It could even be that her theatre communication would have been deeper in these small places of "theatre worship" because they were within her society and culture.
Ediriweera Sarachchandra, Sri Lanka's important Asian theatre philosopher, has recorded publicly that for him theatre and drama could be a substitute for religion. What may shed light on Sarachchandra's statement is Jean Genet's calling the celebration of the Christian Mass the greatest drama available to modern Western man. He said this in relation to his view that in the West the actor merely wishes to identify himself with a character unlike in India where traditional theatre retains its origins, a strong religious or spiritual quality, which Genet called numinosity. For Shelagh with her Catholic faith, theatre and drama could not be a substitute for religion. However it was related to an invisible, spiritual life. Not a diversion in life –
" doing drama also"-as habitually thought of.
Yasmine Gooneratne writes of Shelagh's performance as Linda Loman in Arthur Miller's Death of a Salesman,
" …she reached her apotheosis as an actor, bringing tears even to the astonished eyes of friends and fellow actors who might have imagined that they knew her capabilities well." "Capabilities"for those who knew her well did not include the interior communication Shelagh had with drama.
Back to Melbourne, Shelagh had a holy creative life in that city, which included the way in which she moulded the experiences of the sad losses of her husband and her beloved daughter Devika. And the death of her sister Suzette in Adelaide. The strength from her faith helped her to recover, as much as could be, from these chapters in her book of life. Through these, she continued to live her story, like a great writer who does not really know what will come next. A small segment of the book of her life she expressed in a poem, a little over a year ago, after the last Christmas she was to spend at home.
"What with all these taxing tasks
I leave the Christmas decorations last
And then dismantle glowing balls
That hung in clusters on the walls
And tied with strands of tiny tinsel
Lending lustre to the mantel
All that now safe and packed away
For another Christmas Day,
But a sudden thought does cross my mind
Perhaps by then I've left the earth behind
Gone home to Heaven to celebrate
With loved ones there who joyous wait,
To meet me at my Saviour's gate !"
Her life had all the features and qualities of a great book, a novel from an inspired writer who would not have a drafted plot beforehand but writes as he or she lived life and lives, unknowing of what would happen next, yet brings the work to an end with deep meaning and conclusion.
And so I conclude with these lines from such a book as it comes to its last sentences –
At the last funeral in this novel, a character asks,
" Is it really true that, as our religion tells us, we shall all rise from the dead and come to life and see one another again , all… ?"
" Certainly we shall rise again, …..and shall tell one another gladly and joyfully all that has been, Alyosha Karamazov replied, half laughing, half rapturously."
AND
Shelagh, would not want me to leave out the next last line .
Alyosha then said, " Don't let it worry you that now we shall go and be eating pancakes. It's a very old custom and there's something nice about that."
Follow @timesonlinelk
comments powered by

Disqus