Of deadly marathons and the slow train to Matale
View(s):

People do the wackiest things while they're on vacation. Having paid top dollar for location and scenic beauty, they sleep through an otherwise picturesque holiday. Done on the first day with "nature, culture, and adventure," some eat and drink their way through endless days of recycled dishes that end up as soup and desserts whose destiny was different yesterday.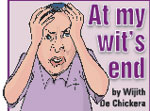 Some read each book in sight for a few idle minutes before getting bored with that sedentary pastime. A few will fight with anyone willing and able to engage in light-hearted banter about nothing important anyway. A rare coterie retires to meditate and resolve the many problems facing the world. An idiot leaves friends and companionable pleasures behind and takes a slow train to a distant never-before-visited destination.
I boarded a five-compartment "up-slow" from Kandy railway station. Before I left the cool well-appointed environs of a lovely hilltop home behind, my long-suffering spouse of thirteen summers gave me a grey look to see me off and a grey book to keep me busy… "Just in case you're bored, dear?" As if! My friends whose scintillating company I was abandoning for the highway and the wide wicked ways of the world could not comprehend why I would part brass rags with them (on an Indian-summerish day where it was 400C in the shade and no breeze for the sun to say sorry with). My apologies, pals, it isn't me – it's you. Matale (and the romance of pointless train-spotting and railway-side time-wasting) beckoned irresistibly. Who am I, a mere mortal, to resist the siren call of triple air-horns from always-nearby railway elf-land?
The 10.20 left fifteen minutes late, having dawdled on the platform for the local from Nawalapitiya to disgorge a ragtag assortment of happy returnees to their central hill-country homes. It was the traditional dawn of the new year and not many tranquillity-loving Sri Lankans were travelling today. On the way, I literally bumped into a brace of British railway enthusiasts from Manchester on a train-spotting spree. If you thought I was cuckoo (admit it, dear reader!), here was the real McCoy: timetables, state-of-the-art DSLR cameras, every number of every class of every engine in the Sri Lanka Railway stable printed out to tick off 'coppings' (train-speak for spottings) on: the full Monty Python! Made me appreciate my hobby – and the local railway establishment – that much more … Thank you, Ian and Steven, you inspired Serendophile wanderers!
The Class M5 locomotive hauled its mixed manifest of precious cargo (sacks of miscellaneous stuff) and peaceful passengers (no 'Sad Sacks' amongst us Sri Lankans on just about any train). We jogged along creaking rails with a shriek of dynamic brakes and a blast of the klaxon to warn ruminant cattle and recalcitrant children off the single-track line. The central province slid past like an old film in slo-mo and slightly faded colour. Alternating one with the other, I leaned back to savour the slow, lulling motion of the sleep-inducing carriage; and then leaned out to get a sense of rural life at an auspicious time in the nation's traditional calendar.
There was no riot of activity or orgy of athletic gamesmanship between the capital cities of these two districts. Town and country were asleep or in a death-like slumber, the only goings-on around for miles being that of goats scrambling up the embankment at the approach of the metallic beast with a smoky diesel soul. Far off kine worshipped the wind and sun in bovine obeisance, and the azure-tinged mountain raised its tree-like arms in surrender. On board, a be-sarong'd father kept his kids amused and his wife embarrassed by hooting madly through the entire length of the three short tunnels en route. Tamils? Sinhalese? I was apathetic and ignorant: on a train, no one knows and no one cares what ethnicity you don't subscribe to. Women in purdah jostled with each other for window seats and described their domestic woes to anyone who would deign to eavesdrop (but no real need to do so, they were clarion as birdcall over the thunder of the re-engined locomotive).
Matale on new year's day was a ghost town. Ilyas, a chatty king-coconut vendor, discoursed on why Muslims and Buddhists make the best brothers-in-arms. As a fellow 'Person of the Book', I held my peace for once. Hungry as a fasting Hindu holy man on a diet of peanuts and pleasant thoughts of lunch, I was sent on a wild-goose chase by a well-meaning townsman.
"Is there a KFC close by?"
"Kay-see, what that?"
"OK, MacDonald's?"
"Mad-who?"
"Any place to get food?"
"Ah, food… say like that will you! Yes, near here."
"How far?"
"Two-three minutes."
"How to get there?"
"Go like this like this, then like that." (Gesticulating.)
After twenty minutes of going 'like this' and 'like that' I got to a shuttered restaurant. Closed Until Next Thursday! A newspaper would have to be my only provender. But no luck my way this day in Matale. That memory of the roti and cold beef curry in the fridge back "home" was making my mouth salivate and stomach rumble. Those round-the-table chats seemed a lifetime ago. My eyes teared at the thought of ice-cold lime tea with a smidgen of honey. We always love the thing we don't cherish enough not to carelessly lose…
Which reminds me: 21 Sri Lankans were killed and 490 injured during the avurudu season. Culprits included clashes, drunk driving, spring cleaning accidents. Nothing as dastardly as a bomb at the finishing line of a marathon. Boston, our hearts ache for you. But we Sri Lankans had better be aware too. Surely we have been down that bloody road not too long ago not to take the threat of bombs and explosive civil disturbances seriously enough. It won't be a slow train with peace-loving Buddhists, holiday-making Muslims, and possibly a solitary Christian aboard to a shutdown city if the marathon we'd just ended was to blow up in our faces again.
Follow @timesonlinelk
comments powered by

Disqus