On the pill? Read on
View(s):

By Smriti Daniel

Do birth control pills cause weight gain? Do they increase your risk of cancer or affect your cholesterol levels? What happens when you miss taking them two days in a row? Are they always the best contraceptive method? This week on MediScene, Dr. Nalinda Rodrigo, Consultant Gynaecologist and Obstetrician tells us 7 things every woman on birth control pills should know.

How do birth control pills work?

Typically, birth control pills mimic a regular 28-day monthly cycle. For the first 21 days, you take active pills containing reproductive hormones. Depending on the brand, you're either pill free for the last seven days or the last week of pills are iron supplements or low dose oestrogen pills. It is during that last week that the woman experiences her regular menstrual period. Unscheduled bleeding and spotting often occur during the first few months and for most women this will go away with continued use.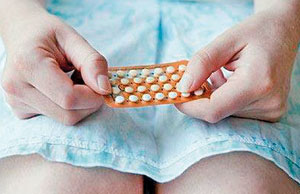 The pills work through a 24 hour cycle. It's why you are encouraged to take them every day at a stipulated time. If you miss one day, the next day you're supposed to take both that day's dose and the previous one. If you miss 2 days, you take additional pills for two more days. If you miss three days, then you'll need to rely on a different method of contraception that month to prevent pregnancy.
If you have had intercourse, than you need to have emergency contraception such as the morning after pill as well. Dr. Rodrigo emphasises that birth control pills are not protection against sexually transmitted diseases. If you are with a partner you're uncertain of, it's best to use condoms as a barrier.
Are there different kinds of birth control pills?
There are two main types of birth control pills: combination pills and progestin-only pills. The amount of oestrogen and/or the amount and type of progestin decide which category the pill falls into. Combination pills contain both and may have the additional benefit of helping make periods shorter, lighter and less painful, improving menstrual migraines and acne among other things. Progestin-only pills are often prescribed to nursing mothers or women for whom the combination pills have proved unsuitable. These need to be taken every day at the same time – if you've neglected to do so, you should rely on an alternate birth control method.
How do birth control pills affect my risk of cancer?
Studies have shown that the long term use of combination pills are both good and bad – they increase your risk of some cancers, such as cervical cancer and liver cancer, but correspondingly also decrease your risk of other types of cancer, including ovarian cancer and endometrial cancer.
Combinations pills also slightly increase the risk of heart attacks, stroke, and blood clots that begin in your leg but can make their way up to your lungs – a possibly fatal condition. The risk increases if you're a woman over the age of 35 and a smoker. Women with a history of any of these conditions should consult their doctor before taking the pill and should quit smoking in order to protect themselves.
Will birth control pills affect my fertility?
Taking birth control pills, even over a long period, won't impair your fertility – most women will ovulate within approximately two weeks of stopping them. However, as you age, your fertility naturally decreases making it harder for you to get pregnant. Oral contraception can be a handy way to help you plan your family, says Dr. Rodrigo. It allows you to choose when you're ready to get pregnant and how long you wait between pregnancies. However, if you're looking at delaying your pregnancy by 2 years for instance you could consider alternate methods such as the intrauterine device or IUD.
What happens if I take birth control pills while I'm pregnant?
If you didn't realise you were pregnant and continued taking your birth control pill, there's no need for concern. Many women have made the same mistake, but evidence that it results in birth defects is scarce. Obviously, once you learn that you're pregnant, you must stop taking the birth control pill.
Do birth control pills cause weight gain and mood swings?
The hormonal changes triggered by birth control pills can sometimes cause minor weight gain and other symptoms like bloating, nausea, swollen and painful breasts. 10 – 15% of women who get on the pill will experience this, says Dr. Rodrigo, however, the vast majority will not. If such symptoms appear, you can consider changing the brand of your pill.
Do birth control pills affect blood pressure and cholesterol levels?
Yes, they can affect both cholesterol levels and blood pressure, but in different ways – by slightly lowering the former and slightly increasing the latter. How much of an effect depends on the type of pill you're taking and its balance of estrogen or progestin. Oral contraceptives with more estrogen can slightly improve blood lipid levels. Since blood pressure is adversely affected, it makes sense to have it tested regularly if you're on the pill.
If you have a condition like high blood pressure or cholesterol, epilepsy, or a history of cardiac problems, you must first talk to your doctor about the suitability of oral contraception. In some cases drugs prescribed to treat medical conditions might interfere with the efficacy of the pill, so check with your doctor.
Follow @timesonlinelk
comments powered by

Disqus