It's never too late to get a life
View(s):

Older people must create new roles for themselves and be positive about the future says Therese Motha

'The Ageing years are not for throwing away'. This headline caught my eye. American writer Betty Friedman's advice is "to move in the new years of life as full persons in society using our unique, human capabilities as they have evolved through years of work and love, helping society to transcend decline and move in new life – affirming directions."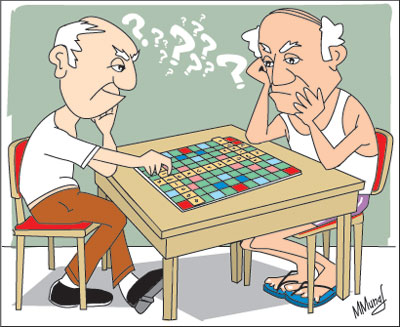 Betty Friedman is now in her eighties. She quotes also the motto of the Seasoned Citizens Theatre Company in U.S.A. "We do not stop playing because we are old…..we grow old because we stop playing". Perhaps there is a lesson for us in this somewhere. Friedman stresses that older people's talents should be used as a valuable community resource and suggests that the creation and acceptance of new roles for older people in society must come from within themselves.
Retirement is an intense period of transition. We have to fill our days with adequate mental stimulation. We are all headed in the same direction of old age and most of us will end up alone. A grim sobering thought.
The fear of old age is as old as history. The fear of loneliness, boredom and helplessness remains buried deep in our subconscious minds. We must make best use of our time. Meditation cleanses the mind and is time well spent. Looking too far into the future is a futile and depressing exercise.
We should be grateful to wake up each morning and to have learnt to take one day at a time. We must steer our own ship and charter our own course. We must be no longer obsessed with anything but be willing to take life as it comes facing its uncertainties with grace. We must accept our changing roles in society, and try to adopt a positive and enthusiastic approach to the future.
These words from the Rubaiyat of Omar Khayyam sums it all up.
"Ah fill the cup— what boosts it to repeat
How time is slipping underneath our feet
Unborn tomorrow and dead yesterday
Why fret about them, if today be sweet".
This is what famous poet Maya Angelou said on "Ageing". "I've learnt that no matter what happens or how bad it seems today, life does go on, and it will be better tomorrow. I've learnt that regardless of your relationship with your parents, you'll miss them  when they are gone from your life. I've learnt that  making a living is not the same as making a life. I've learnt that  life sometimes gives you a second chance. I've learnt that  when I decide something  with an open heart, I usually make the right decision. I've learnt   that even when I have pains, I don't have to be one. I've learnt that I still have a lot to learn. I've learnt that people will forget what you said, people will forget what you did, but people will never forget  how you made them feel".
An article on Mental Deterioration I came across says that education protects against mental deterioration. It is not only the level of education which a person attains that influences how age will affect his mental faculties but what is also important is how, as he gets older, he uses the brain cells  with which he has been endowed. After one retires, just sitting in front of the TV encourages the deterioration of the brain. Even after one stops working, one should keep the brain challenged.—-reading, analysing, discussing, etc. His advice  to those preparing  for old age is cultivate a hobby, whether it be reading, playing a musical instrument,  or even playing Scrabble—anything  to stimulate mental activity.
Today's Senior Citizens are a hardy bunch when you think of how the world has changed, and of the adjustments we have had to make. And always remember, Life is not measured by the number of breaths we take, but by the moments that take our breath away.
Follow @timesonlinelk
comments powered by

Disqus