Kaveen kicking his way to karate glory
View(s):

Kaveen Samaranyake, the Sri Lankan karate prodigy from Gateway College, started his career at the age of just seven.
Samaranayake (17), attended Leeds International School where he first started martial arts. He was able to achieve his first decoration at the annual Shitoryu Seikokai competition, earning a silver for the Kata form of karate and a bronze medal for the Kumithe form of the sport. This too he achieved while still seven.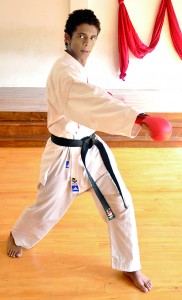 "I felt really nervous when stepping up for a match at a tournament for the first time. I expected to come home without a tooth.
I didn't know what would happen to my face," he said while describing his first tournament experience.
Kaveen acknowledged that it was his mother's influence and persuasion that pushed him to take up Karate as a sport.
"My mother gave me the idea to start training. At first I was shy and nervous. But with time I got used to it and after each match I got better at it and now it's a part of my life."
Kaveen, who has been competing professionally for the past eight years, has had an exceptionally successful career, being the reigning All-Island Champion of his weight category since 2011. He was placed second all-island in 2010.
He has also represented Sri Lanka in many international tournaments including the seventh World Karate Championship in Malaysia in 2011 and the eleventh senior and twelfth junior Cadet Asian Karate Championship held in Uzbekistan in 2012.
Although he has a strict career in martial arts, Kaveen does not neglect his education. Currently he is studying for his A' Levels after having received four A stars for his O/Ls and a scholarship for karate at Gateway College.
"My school friends and family are very supportive. They respect me a lot and because of this sport I have more friends. Gateway promotes karate which helps me to be more recognized, which in turn gives me opportunities to be invited to international competitions."
Speaking about his inspirational figures, Samaranayke appears to worship Bruce Lee and Chuck Norris.
"Bruce Lee and Chuck Norris hands down. Bruce Lee's speed is unrivaled; however his style leaned more towards Kung- Fu. Chuck Norris is a Karate legend and I get a lot of motivation watching his early movies."
Kaveen hopes to continue his career in karate although his ambition in life is to be a commercial airline pilot.
"I'll continue to compete and I'll help anyone who wants to compete to keep karate alive in Sri Lanka. Maybe I could be a coach someday. I plan to become a pilot someday but karate will always be a part of me"
Giving some advice to the next generation of karate fighters of Sri Lanka, Kaveen said, "It is pretty hard at first. You will want to drop every thing and leave many times; you may break your nose, crack some bones or lose a couple of teeth.
Even I wanted to quit at one point, I found it too hard, I wanted to run for track events instead, but in the end all the pain is worth it, because karate is not just a sport, but a way of life and you have to adapt to it."
"Like anything else, in the end you have to go through the difficult times to find your dreams in the end."
- Skandha Gunasekara and Sonja Candappa
Follow @timesonlinelk
comments powered by

Disqus