Want to hit the road?
View(s):

Get behind the wheel this week on Take 3 as we check out driving schools in Colombo. It's all about finding the school that will go the extra mile for you – quite literally when it comes to pick up and drop services. Here's what you need to know: 
Daya Learners:
165, Galle Road, Colombo 4. tel: 2584570, 4941834
Daya Learners has an extraordinary history. Founder chairperson Daya Rupasinghe was the first woman to earn a heavy vehicle licence in Sri Lanka – she passed her test in 1964 while driving a bus. At a tender 22 years of age, she started the driving school with only one Morris Minor, increasing the fleet, adding to her staff and opening new offices as her services became more in demand. Today the company is run by her son Ranil Rupasinghe.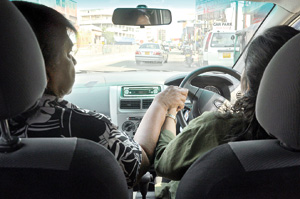 More than 14 English/Tamil/Sinhala speaking instructors are available to teach on 10 cars – a mix of manual and auto cars imported from Japan, India and Malaysia. Daya Learners offers 20 lessons over four months – half hour classes, twice a week. If you can't get to them, they're willing to come to you as long as you are within Colombo city limits. The charge for this service varies from Rs.3,000 if you're in Colpetty to Rs.5000 if you're in Mount Lavinia (in addition to their standard fees). Women can ask for a female driving instructor at no additional cost. All classes are one on one.
They promise to see students through to getting a licence and are the only school on our list who will continue to teach you with no added charge until you get through. They currently have offices in Colombo 4, 5 and 6 and are planning to open another branch in Kottawa next month.
The course costs Rs.17,900 (manual) and Rs. 21,900 (auto). Look out for their special Avurudu discount – 25% off till April 10.
Manahara Learners
202 C, Hill Street Dehiwala.
Tel: 2729709
At Manahara, classes commence after a written exam and last four months, with the course being divided into 20 classes of half an hour each. They're closed on Fridays but you might want to pick Manahara for their willingness to come as far as Moratuwa, Ratmalana and Thalawathugoda to pick you up. The pick-up and drop service comes under their VIP service, offered from their Manahara VIP Centre in Dehiwala. The service includes the choice of language of instruction and flexible timing for lessons. In addition, Manahara says they schedule interactive sessions with the police and other figures relevant to the new driver at their centre.
Unfortunately, they don't currently offer female driving instructors but all classes are one on one. Manahara have an impressive 7 branches, with an instructor at each. Their fleet, consisting of over 25 vehicles, includes cars and vans. They do see you through to your driving test, but if you fail, they charge Rs. 750 for additional lessons. Founded by a Mr. Chandrasena and run by his two sons, Manahara Learners first opened for business 33 years ago.
The course costs Rs.12,500 (manual) and Rs. 15,000 (auto).
Manori Learners 
309 2/7 Galle Road Colombo 6. Tel: 2504222
The course at Manori Learners involves 15 lessons, each half an hour long but stretches over the standard four months. They offer pick-ups and drops for an additional Rs.2,000 and a female driving instructor can be had for an additional Rs. 3,000. All classes are one on one and are taught by one of the organisation's 5 instructors. Four cars – primarily Altos and Nissans – are used for classes. While they see a student through to getting a licence, fail your trials and you'll have to pay Rs. 1500 per hour of extra classes.
Named after founder Mrs. Manori Palawandram, Manori Learners has been in the business for 16 years.
Follow @timesonlinelk
comments powered by

Disqus