A technical fault says SLC
View(s):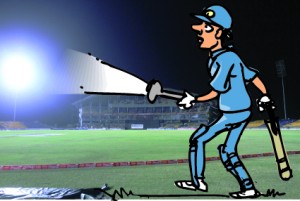 Sri Lanka Cricket yesterday explained the reasons behind the Generator Failure at Hambantota last night during the first ODI between Sri Lanka and Bangladesh.
Two of the four light towers had failed due to both the operating generator and the standby generator for the said two light towers provided by the Ceylon Electricity Board, had failed due to a technical failure. The cause of the said generator failure is to be investigated by CEB.
The main pavilion stand by generator was used to provide the necessary power to the light towers. It should also be noted that these generators were tested the day before and was fully functional during the said testing period.
Sri Lanka Cricket thanked the CEB Engineering Staff, and the Technical staff of MRICS and the Engineering staff of SLC for the untiring efforts they put in, to get the power back on line in such a short period of time.
Sri Lanka Cricket also apologized to the millions of viewers and the general public for the inconvenience caused due to this technical fault.
Scoreboard
Bangladesh
Tamim Iqbal run out 112
(Flicks to short leg and tries for a quick single)
Anamul Haque b T Perera 13
(Lengthy and low delivery, batsman plays
on back foot and misses)
Mohammad Ashraful c K. Perera b Kulasekara 0
(Drives it on the up and chips it to mid off)
Mushfiqur Rahim lbw b Mathews 3
(Goes for a pull and misses it completely)
Mahmadullah c Sangakkara b Mathews 29
(Simple edge to the wicketkeeper)
Nasir Hossain not out 73
Ziaur Rahman b Senanayake 0
(Quicker delivery on the off stump, plays on the back foot and misses)
Sohag Gazi c Dilshan b Malinga 6
(Short delivery outside off, cuts and finds
the point fielder)
Abul Hasan b Malinga 3
(Yorker length delivery, makes batsman
unable to play)
Andur Razzak not out 6
Extras (b1, lb1, w11, nb1) 14
Total (8 wkts; 50 overs) 259
Did not bat: Rubel Hossain
Fall of wickets: 1-44, 2-57, 3-63, 4-129, 5-204, 6-204, 7-211, 8-244
Bowling: Lasith Malinga 10-0-51-2, Nuwan Kulasekara 9-0-67-1, Thissara Perera 8-0-45-1, Angelo Mathews 9-1-36-2, Sachithra Senanayake 10-0-46-1, TM Dilshan 4-0-12-0
Sri Lanka
Kushal Perera c N Hossain b Gazi 42
(Goes down the pitch, the ball dips and
edges to first slip)
TM Dilshan not out 113
Kumar Sangakkara c Rahman b R Hossain 63
(Plays an upper cut, finds the third man)
Dinesh Chandimal not out 3
Extras (lb13, w4) 17
Total (2 wkts; 35.4 overs) 238
Did not bat: Lahiru Thirimanne, Angelo Mathews, Jeevan Mendis, Thissara Perera, Nuwan Kulasekara, Sachithra Senanayake, Lasith Malinga
Fall of wickets: 1-106, 2-234
Bowling: Abul Hasan 5-0-52-0, Rubel Hossain 5-0-44-1, Abdur Razzak 9-0-49-0, Sohag Gazi 7.4-0-46-1, Ziaur Rahman 8-0-26-0, Mahmadullah 1-0-8-0
Follow @timesonlinelk
comments powered by

Disqus