Pioneering batch from Raffles' Graduate in Style!
View(s):

The Colombo branch of Raffles – the world renowned Institute of Higher Education inFashion & Design – will be holding its graduation ceremony in grand style for its first batch of 16 Graduates on 26th of March at The Kingsbury Hotel. The graduation ceremony will be preceded by the exhibition of the Multimedia, Interior, Graphic Design graduate's work and followed by a glittering fashion show which will showcase the creations of the graduates in the Fashion Design program.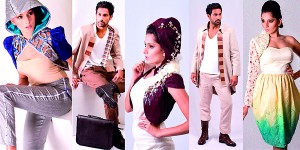 The Raffles Institute is present in 30 cities across 13 countries and has over 33,000 students enrolled in the Asia Pacific region alone making it the largest and most global private education organization. Raffles is also listed in the top 50 fashion schools in the world by fashionista.com
"We have the best program so far available in Sri Lanka without a doubt and our students would vouch for that. As a premium product the Brand name, Raffles carry a lot of weight on and off paper in this field as well as producing industry ready individual's, ready to make a difference" said Ashan Gunawardena – Marketing Manager of Raffles – Colombo.
"Our panel of lecturers includes world renowned fashion designers such as Dinesh Chandrasena who will collaborate with a world renowned choreographer Brian Kerkoven, in making this fashion show a unique one." continued Gunawardena.
The quality of Raffles Education has been recognized and affirmed by leading fashion stores such as Kelly Felder, Odel and Maldives Resorts to companies in Dubai, who have hired their graduates from the first batch even before the convocation. Raffles Colombo specializes in the areas of Fashion Design, Fashion Marketing & Management, Multimedia Design, Graphic Design and Interior Design.
"Raffles' student enrollments are now in progress and we invite those who aspire to be the leading designers in the world to visit us now" said Gunawardena.
Further emphasizing the quality of Raffles Education worldwide, Raffles students who have completed the program have been accepted at international design schools around the world. Currently, Raffles students have gained entry into Parson's School of Design in New York as well as Central St. Martins to name a few, to follow higher studies. Thus, the locally issued degree by Raffles gives the students international recognition if they plan to further study or find work overseas.
Follow @timesonlinelk
comments powered by

Disqus