Theatre festival at Colombo International School
View(s):

The Prefects guild and the Drama Club of the Colombo International School (CIS) are gearing for their annual school production. This year the cast have worked round the clock to bring its audience two days of theatre. The theatre festival offers a blend of a variety of emotions performed by an enthusiastic and talented cast.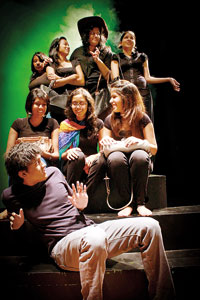 The feast of plays begins with three one act plays on March 7 titled "NO WHY" and a Jeffery Archer thriller – THE NIGHT OF MARCH 23rd on March 8. Both productions will begin at 7.30pm at the CIS auditorium.
The plays on March 7 will offer a mixture of comedy and serious theatre. The evening opens with a bureau which provides husbands for potential ladies. The play deals with a variety of ladies looking forward to finding suitable husbands, but unfortunately only one man arrives… and the story works out just fine.  The mood then changes with the character of David, a differently abled child who visits his sisters for his 32nd birthday. A play which grapples with a serious viewpoint about priorities, family ties and choices one is forced to make due to the pressure of being in love.
The curtain falls with its final play – with Jake – a boy who has committed a serious offense. His entire family blames him for the disappointment caused and they all wait in anticipation for him to say 'sorry'. A cast of 18 ranging from the ages of 15 to 18 will bring to life some of the most grappling issues of life through these three performances.
The production on March 8 is about two leading lawyers coming head to head with a case which would finally end a long standing feud between them. A leading lawyer is faced with a murder charge- of killing his ailing wife. His rival lawyer shows no mercy in his cross examination. The play also shows the relationship between the accused and his wife. It's up to the audience, who are the jury, to decide the fate of the leading lawyer.
The production is handled entirely by the Prefects' body of CIS and is presented by the Drama Club. The evenings performances are directed by Vinodh Senadeera, Head of Performing Arts at CIS. Tickets are priced at Rs 500/= for each night, and are available at the school's reception.
Follow @timesonlinelk
comments powered by

Disqus