Nothing like a crispy ghee dosai
View(s):

We're serving dosais hot off the fire this week on Take 3. So crisp they break into shards and so thin they're almost translucent, we're focusing on paper dosais. Our hunt took us to three of Colombo's best known vegetarian restaurants. The one thing we learnt? There's nothing ghee can't make tastier. Here's what you need to know:

Sri Vihar - 3, Sri Sambuddhatva Jayanthi Mawatha, Colombo 5 Tel: 011-2596597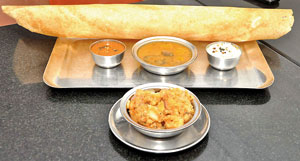 Walking into Sri Vihar you find yourself in a large room divided by arches and decorated with plastic orange roses in pots. There's a good crowd – several of whom are clearly here to devour one of the restaurant's 36 kinds of dosai. Served between 7a.m. and 10:30 p.m. every day, prices range from Rs.80 for a plain dosai to Rs.260 for a ghee paper paneer dosai. Paneer, a soft, slightly crumbly Indian cottage cheese, is the most expensive stuffing wherever we go.
Sri Vihar offers a number of different versions of the paper dosai – from the paper onion dosai (Rs.170) to the paper garlic masala dosai (Rs.190). When our plain paper dosai (Rs.120) arrives, it's nice and crisp, though the two chutneys and the sambhar that accompany the dish aren't as piquant as we'd like.
A South Indian speciality that neatly encapsulates the restaurant's specialities is the mini-tiffin. Consisting of a dosai, idly, pongal, vadai, a sweet and a cup of plain tea, mini-tiffins cost Rs. 325 and are served from 7a.m. to 11a.m. Sri Vihar delivers within Colombo city limits.
Saraswathie Lodge 191, Galle Road, Colombo 4 Tel: 011-2581913
Within walking distance from the Ganesh temples in Bambalapitiya and on the landside of Galle Road, Saraswathie Lodge seems to always be full of people. Despite the heavy turnover, the place is clean and the food always fresh. Their dosai menu is small but strong on the classics – a plain dosai costs Rs.45, a masala dosai stuffed with a spicy mix of potato and onions costs Rs. 120 and a long, neatly rolled paper dosai costs Rs. 110.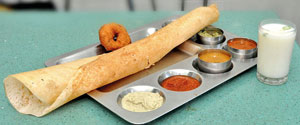 Their dosai comes accompanied with five different chutneys and curries – there's a lovely, punchy mint sambol, a spicy red curry with little chunks of ladies fingers, a yellow sambhar, a deep red, pungent tomato chutney and a pale green coconut chutney. We're told the curry and the sambol change on a day to day basis.
Open at 8 a.m., Saraswathie Lodge only closes its doors at 10:30 p.m. They begin serving rice and curry at 10a.m., something we see customers taking advantage of for a morning buth feed. (Their Madras meal costs Rs.190.) For the wild at heart, you can experiment with new flavours by ordering their kurakkan dosai (R.65) or their atta dosai (Rs.65) but don't leave without trying a glass of buttermilk or moru. The thin, curd based drink is spiced up with roasted curry leaves and onions and served cool. At Rs.30, it's a refreshing thirst quencher that's hard to beat.
Shanmugas 53/3, Ramakrishna Road,Colombo 6 Tel: 11-2559203
Shanmugas bill themselves as 'the' vegetarian restaurant, and it's true they have little in the way of serious competition. When we walk in, the poya buffet (Rs.850), which is incidentally on on Sundays as well, is in full swing, but all we want is a dosai. When we're served a crisp kara dosai, with a lovely glaze of ghee on it (Rs.330), we know we've come to the right place.
The kara dosai will be familiar to South Indians as a podi dosai; not podi as in small but podi as in the spicy powder typically made with dried red chillies, different types of dhaal and sesame seeds.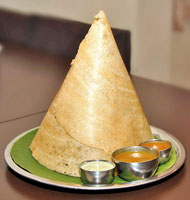 Our cone shaped paper roast dosa (Rs. 350) lives up to expectations. It is served with two chutneys and a sambar. The menu offers several other varieties of dosais as well. The thick oothappam (Rs.280) comes speckled with crisp onions or chunks of tomato and the paneer dosai (Rs.380) is stuffed with a spicy mix of soft paneer and onions.
At Rs. 190, their plain dosa is the most expensive of the restaurants we've eaten at. Shanmugas' is in their 15th year and are intent with keeping up with the times – they have a site which allows you to order over the web (www.shanmugas.com) and a facebook page.
(Shanmugas deliver within Colombo city limits.) You can also find them in the basement of Crescat where they have a stall in the food court.
Follow @timesonlinelk
comments powered by

Disqus