Danu at the controls
View(s):

In his new role as Lite FM's morning show DJ, Danu Innasithamby keeps the strategy simple – entertain his listeners and help get them through their day

There's no need for an introduction when it comes to Danu Innasithamby. Whether you're switching on the television, tuning into radio or flipping open a paper; rest assured you'll catch Danu's wise (and deliciously gossipy) words at some point. Recently, Danu began a whole new chapter in his career, when he took over the Lite FM morning show 'Lite Morning' with co host Jovi. The Mirror Magazine caught up with him for a chat about radio, graveyard shifts and everything in between.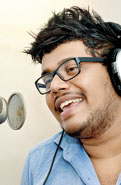 Danu began his radio career at a tender age of 16, just after finishing his O'Levels at St.Peter's College Colombo. "I was bored, so I flipped through the Yellow Pages, found a radio channel and called them up. They thought I was a caller initially, but I managed to convince them to give me an interview and next thing you know I was on air!" he grins. "Okay maybe not as exciting as I made that sound. My trainee period was basically the graveyard shift-that's from midnight to about 6am."
How did he acclimatise to the odd working hours? It was very simple-he didn't! "We've done some mad things on that shift," he winks. "We've fallen asleep on the controls and violated the playlist rather aggressively. I remember once the channel ended up playing party music at about 2am in the morning!" It's a time he looks back on rather fondly though. "No one does the graveyard shift anymore. It's automated music now. It's kind of sad when you think about it, because a lot of people listen to radio at that time."
He eventually got his first proper show- 'The After Lunch But Before You Get To Go Home Show'- and followed it up with a string of successful stints at most of the country's premier radio stations. You'll remember him as one of the eccentric hosts of the Phat 30; or maybe you'll remember him even better for a hilarious slip up that involved identifying a Destiny's Child song as 'Lose My Breast' (Breath) just before a news bulletin. Danu is still mortified.
His new chapter at Lite FM comes hot on the heels of his stint on television. For a long time, Danu graced the screens as the vibrant host of Planet Pulse and a chat show in Tamil (he's trilingual, a huge advantage in the local media circuit). In 2011, Danu was Master of Ceremonies at the ICC Cricket World Cup matches-a great honour which he accepts pretty modestly. He set up his own charitable foundation and staged the highly successful 'Love Changes Everything' on behalf of the Maharagama Cancer Hospital. And somewhere amidst all that he managed to find time to act in a film production about AIDS awareness.
It's a bit of a relief to be back to basics with radio, he says. "There is so much less 'pre-drama' involved when it comes to radio," he smiles. "TV needs a lot of patience, a lot of effort to look good and get the right light balance and all that. It's easier to create magic with radio. There's no pressure to look good-it's all about doing your research before the show and being able to talk nine to the dozen." A talent which Danu seems to have been blessed with rather abundantly. "But it has its flipside. It's very demanding on your time-I wrap up my morning show and we begin researching for tomorrow's show straight after. You've got to be well read, very up to date and in touch."
With this new show, Danu and co-host Jovi hope to find that right balance between intelligent conversation and good music.
"Our listeners are mainly in the 25-45 age group," says Danu. "They're at the peak of their life and they're mad busy. So we have to be useful, but entertaining and relaxing at the same time.
" Tough call? They seem to have a seamless master plan that involves getting men and women to role play (listen to the show and you'll probably find out).
Jokes aside, Danu claims to have a winning formula in his hands. From guest host slots to exclusive interviews, they've got it all in the bag he says.
The basic premise of the show is still very simple-entertain their listeners and give them the strength to get through their day. For Danu, radio is not just a clock to measure time with or background noise as you go about your business. "Radio is your friend, after all."
Follow @timesonlinelk
comments powered by

Disqus