'Bullet to the Head' in Colombo
View(s):

Come back 'Rambo' famed Hollywood superhero Sylvester Stallone, 'Bullet to the Head', latest action thriller is now being screened at Platinum, Majestic cinema Colombo.
Based on Alexis Nolent's French graphic novel 'Du Plomb Dans La Tete' and translated as "Bullet to the Head", the film is directed by Walter Hill and stars Stallone, Sung Kang, Jason Momoa, Sarah Shahi, and Christian Slater in the stellar cast.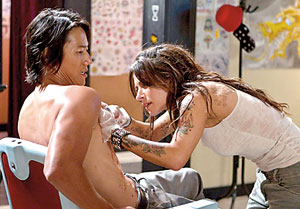 Shot in New Orleans from June 27 to August 23, the film revolves around a hit man (Sylvester Stallone) who teams up with a New York cop to get revenge on the killers who murdered their old partners.
Battle-scarred New Orleans hitman James Bonomo (Stallone) and his longtime partner Louis (Jon Seda) have just executed their latest hit, a cop named Hank Greely (Holt McCallany) when Louis is killed by hulking enforcer Keegan (Jason Momoa) before they can get paid. In the wake of a failed attempt on Bonomo's life as well, Keegan flees the scene, but not before his intended target gets a good look at his face. Meanwhile, Korean NYPD cop Taylor Kwon (Sung Kang) shows up in town determined to find out who killed Greely, his former partner.
When Kwon tracks Bonomo down to find out who hired him, both realize that their best hope for catching their respective partners' killers is to team up. Before long, their trail of clues has led them to sleazy lawyer Marcus Baptiste (Christian Slater), who is currently caught up in some shady business dealings with the mysterious and powerful Robert Nkomo Morel (Adewale Akinnuoye-Agbaje) that could implicate some serious power players in Washington, D.C. Now each new move that Bonomo and Kwon make could be their last, and as the cop does his best to stay on the right side of the law, the killer uses the only tactics he knows to get results. But even if they manage to get their man, that doesn't change the fact that they'll have to deal with one another once they've taken down their target.
Follow @timesonlinelk
comments powered by

Disqus