Rape gallops on unchecked
View(s):

People not galvanised by horrendous events. Kumudini Hettiarachchi and Aanya Wipulasena report
Four-year-old girl raped and strangled in Mandaitivu………just one more of the five rape cases, the police say, which are reported in Sri Lanka every day.

As the country steps into the brand new year of 2013, the legacy of violence against women and children is not only grim but also shocking.

In the light of the massive protests in India after the brutal rape and killing of a 23-year-old on a bus in New Delhi, many questions arise in Sri Lanka. Why is there a deafening silence in this country when not only children but also women face horrendous violence in their homes, on the streets, at schools and workplaces?

It seems to be a middle-class malaise, the Sunday Times learns.

The sanitised middle-class needs to get galvanised against such crimes, stresses Dr. Deepika Udagama, Head of the Department of Law, University of Peradeniya, pointing out, however, that there is a sense of devastation over such terrible incidents.

"All are wondering why we don't protest, but we need to make it happen," she says, citing the Kahawatte killings where that community had to agitate while the whole country looked on in silence. NGOs have done excellent work but it's up to the people to take up the issue in a spontaneous social movement.

"It's not only violence against women that draws silence from the public in Sri Lanka, but also all forms of injustice and transgression," she points out, adding that in the current threat to the independence of the judiciary, across the board lawyers protests are unusual. "Although from time to time it explodes into action, the norm is silence in the face of all forms of violations of democratic governance," she laments, underscoring that violence against women also comes with the added burden of gender stereotyping.

We have a passive polity, is her verdict. "Most democracies have an enlightened and conscientious middle class to take up such protests, but not Sri Lanka."

Sherine Xavier, a human rights activist in the north, gives another perspective when she stresses that "we are a nation that has kept quiet and become immune because we have tolerated a lot of violence". We beat our children and our wives. Violence within the family is tolerated. Therefore, the next level is sexual violence. Although the war has hardened us, a new chapter has opened in our country and it is time for us to decide that we will not tolerate any kind of violence.

"Even if a single citizen is violated, how can we think of development? Women are not only daughters, wives and mothers but also equal citizens," says Ms. Xavier, urging a change in how women are perceived. For, rape is not about sex but about power.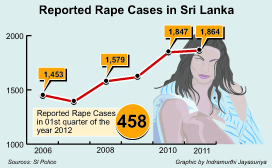 Echoing similar views, Visakha Tillekeratne of 'Citizens for a Secure Sri Lanka' points out that people have become de-sensitized and inured to violence due to the country experiencing violence over decades starting with the communal issues of 1950s. We are a nation in denial, hiding behind religion and culture in the face of massive atrocities against women.
"The need is a huge outcry like in India," says Sriya Ahangamage of the Women's Centre based in the Free Trade Zones, condemning the fact that in a large number of cases of violence against women and children, the perpetrators are politicians. A network encompassing the whole country should be formed not only to sensitise men but also to change perceptions that women are not equal to men.
Analysing the psychology of sexual violence as being a "power issue", Consultant Psychiatrist Dr. Mahesh Rajasuriya of the National Hospital says in 99% of the cases it is perpetrated by men against women. Sex has been perceived as a gift, facility or service provided by women to men, something for men to take and something for women to give. If you have power you take what you want or even pay for it.
"This is an extremely harmful attitude," cautions Dr. Rajasuriya who is also a Senior Lecturer in the Department of Psychological Medicine at the Colombo Medical Faculty, adding that sex is part of a healthy relationship, with heightened intimacy leading to sex with the consent of both the man and the woman. "Power has nothing to do with it."
The power issue scenario, according to him, is but the tip of the iceberg, with a huge part being invisible. Gross disempowerment of children is one facet. If a child is seen to be assertive or independent, the child is labelled as "bad" by teachers and parents, while the non-assertive or dependent child is "good". This is because we have power over them. The end of this line of thinking would be abuse of the "bad" children – hitting or punishing them when they do something that the authoritative figure does not like, even though it is not something bad. This is rampant in schools and homes and all of us are guilty.
While urging a major change of attitude, Dr. Rajasuriya says that it has been scientifically proven that awareness is not what matters but empowerment,
Dealing with the view held by many whenever there is sexual violence that the victim may have "asked for it," he says it is a "defence mechanism" against negative emotions. When we are confronted by brutal incidents we feel bad, overwhelmed by anger, guilt, sadness and frustration about the society we live in. To overcome these negative emotions, we attempt to justify the incident by saying the woman asked for it.
Referring to general attitudes, Dr. Rajasuriya says his hypothesis is that whenever a crime is committed, people feel that it is better to keep quiet as they are not powerful, that when one is powerless or not influential, justice will not be done. This is what we need to reverse.
To reduce crimes against women and children we need to look at gender politics and sensitize the public, reiterates Dr. Udagama, drawing attention to the treatment meted out to the Chief Justice and a woman parliamentarian, which is symptomatic of the issue of gender stereotyping.
In some indiscernible way, another source who declined to be identified, said men seem to be more worth than women in our society. There is a celebration of the male, which places the female in a subordinate space. The culture at home is that girls have to cook, do housework and play with dolls, while power games and toys such as guns and cars and dominant roles are for boys.
To right the situation, discrimination of any sort should be abhorred. Cultural and traditional practices which reinforce discriminatory practices need to be struck down, the source said.
Adds Dr. Udagama: The basic message should be that man and woman, both are equal, and should have the right to live in dignity and not be treated as a sexual object.
The consensus is that it is a wake-up call for each and everyone. The time has come for every person to shout out a loud "NO" in unison to crimes against women and children.
Laws adequate but some gaps remain
The laws against sexual violence are adequate but there are some gaps which need correction while a major change in the attitudes of the enforcers, both police and judiciary, is required, the Sunday Times learns.
The amendments to the Penal Code in 1995 strengthened the laws against rape, but what fell short of expectations were those with regard to rape within marriage and date rape, says Dr. Deepika Udagama, adding that consent is of paramount importance. The changes in the law are also not reflected in a heightened number of rape convictions, she says, pointing out that implementation plays a vital role. Implementation is handled by law enforcement officers and those who administer justice, who in many cases have gender stereotyping, where women are seen as objects and lesser beings, entrenched in them.
With not only the level of violence against women but also sexual harassment and eve-teasing being high in Sri Lanka, cultural and traditional stereotyping and myths have become the greatest barrier to the implementation of the law, a legal source said.Men and women are equal under the law, guarantees the Constitution, but despite this formal assurance, the functional and practical reality of women's experiences is the abuse of the dominant power by men. If there is to be equality, then the freedoms guaranteed under the Charter of Human Rights and our Constitution must be equally accessible to women, the source added.
Arguing that the 'right of movement' is not a woman's right, the source said women are unable to move around at night because of sexual violence, for they would be eyed in the stereotypical way as a sex worker. But what of professionals or garment factory employees who have to work late?
Taking up 'freedom of choice' next, the source points out that often in sexual violence cases a woman is judged on what she has been wearing — whether it falls within the "modesty value" of traditional belief. If she was wearing a short skirt she "asked for it". However, the same measure is not applied to men. Did a well-dressed man walking around in a not-so-well-to-do area "ask to be robbed" will never come into the equation when a robbery is reported.
Under the microscope is also the Evidence Ordinance, where in any crime the victim's evidence is good enough but not in a sexual violence case where the victim-woman's evidence has to be corroborated by another witness. Even though the rule about corroboration has been set aside by the Supreme Court, many judges still look for corroboration, the source pointed out.
Lamenting that the "law is endemically discriminatory in certain matters." the example cited is the woman who unknowingly is in a bigamous marriage. The man is charged in a criminal court but as the second marriage is not viewed as legal the woman cannot claim maintenance for the children as "they have been born out of wedlock".
Other issues facing sexual violence cases are that they are under-reported, only 40% are reported, because of stigma and the conviction rate being low because of the myths and stereotyping reinforced by judges, it is understood.
'Unconscious judicial bias' has been confirmed by studies carried out in Sri Lanka, the Sunday Times learns.
Hotline to help distressed victims
A Rape Crisis Centre and a hotline are to be set up by the 'Citizens for a Secure Sri Lanka' shortly.
It will act as a one-stop centre to empower children and women who become victims of sexual violence, said the organisation's founder Visakha Tillekeratne, lamenting that after a rape, the follow-up is not adequate.
If the victim goes to the police, the legal and health procedures will take place, but what of initial reassurance, befriending, moral support and psychosocial rehabilitation. Usually the victim is all alone and this is where we will come in, she said.
Follow @timesonlinelk
comments powered by

Disqus