Battered by winds, then by the law of the land
View(s):

Residents of a village in Habaraduwa whose houses and property were damaged in a mini tornado are deemed not poor enough to receive financial compensation. Charundi Panagoda reports from Lanumodara, Habaraduwa

A small-scale tornado ripped through a small southern village shocking and confounding residents, who in its aftermath are struggling to rebuild as the government failed to provide monetary support.

A bizarre experience

Lanumodara, Habaraduwa is a village about 10 kilometres from Galle town. Paddy fields and pet dogs are abundant in this area where most of its 370 families survive on farming, small businesses and as hired labour.
The residents were going about their usual business on Dec. 30 Sunday afternoon when the weather seemed no different from the usual rain. Paddy farmer M. E Karunathileka was working on the field when his cap suddenly flew off. He heard a loud noise and sddenly the tin sheets (takaran) on his roof were airborne.

Another farmer, 65-year-old Sunipala, witnessed the most astounding spectacle of his life on the paddy field right in front of his house. He saw the wind gather and shoot the muddy water of the paddy about 100 feet upward "like a funnel, like it was on fire." The trees began to violently twist and rotate and the paddy bent down in an unnatural angle.

Sunipala was afraid the twister would come towards his house, but it changed course and went right towards the house of G. Njanapala, whose wife, Karunawathi, and their daughter were upstairs collecting clothes hanging outside. Their neighbour suddenly yelled at them to go inside, a cyclonic wind was headed their way.

For some time the family was stuck inside their house, the wind thrashing and howling "like the ocean" outside. Trees were uprooted three feet into the air, the electrical wires snapped and their roof blew away.

On his portico, D. G. C. Wijetilleke, his wife and daughter held on to columns too afraid to go anywhere as the twister blew through their house bringing down a part of the roof. Everywhere they looked trees were twisting, mango, jakfruit and breadfruit trees were bending over like straw, roof parts were flying over and they feared they would be also be caught in the vortex.

The tornado lasted about five to eight minutes that Sunday afternoon from 3.20 to 3.30 p.m., resident Sarath M. Jinadasa said. He was indoors when he heard a noise "like a train" and looked outside to check it out.

"The damage came with the paddy water being pulled up, like by an electric motor, and water went up twisting like fog," he recalled. "There were tin sheets stuck on top of coconut trees. Luckily, this didn't happen later when everyone was sleeping. If it did, the damage would be much worse."

Resident and Galle police officer A.K.N. Jayalath described the incident "so sudden and unbelievable like Aladdin's magic lamp."

Rebuilding after the devastation

Farmer Sunipala showed a perfectly circular pit in the middle of his paddy field as the origin point, and from there on a path of ruined trees and building parts map where the twister ripped through the village.

Lanumodara Grama Niladari K. Gamini said the tornado damaged 26 houses in the area, including his own, and most of the damage happened to the roads with fallen trees obstructing the path.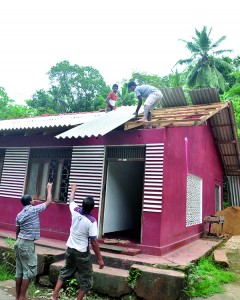 "When it happened, all the important people came," Mr. Jinadasa said. "Deputy Speaker Chandima Weerakkody came, this is his seat, the government agent, divisional secretary and all the Parliamentarians came. I'm impressed. It was a Sunday and a government holiday but the authorities showed up. The electricity board promptly got the power back on."
Officer Jayalath said the villagers got together and cleared the debris from the roads and fixed whatever they could. A village carpenter called Amaranath brought his own equipment and paved the way.
"I called 119 and told them to inform people, then the authorities came in 10 or 15 minutes," Officer Jayalath said. "Luckily, no people were harmed, not even a scratch."
The residents got away with their lives but now they are burdened with unaffordable financial losses from damaged houses. Many are seeking government compensation. Though the authorities came and collected forms, the residents are still waiting for a reply.
Most are not expecting the government to compensate them because of a legislation declaring only persons who earn less than Rs. 3,000 a month are eligible for compensation.
"Who makes Rs. 3, 000 a month now? Even the man we hired to cut down the damaged trees charged Rs. 11, 000 for two hours' work," said D. I. Lasantha, a soldier visiting from Killinochchi.
The affected residents, most of them in government service, claimed the worst affected are the government workers who are explicitly excluded from receiving state monetary compensation.
"Do we make lakhs in monthly salaries as government workers? Even this postman I know, who is neck deep in debt for loans he took to build his house, is a government worker automatically disqualified from much needed compensation. When a disaster comes it doesn't discriminate between government workers and others," Officer Jayalath said.
"I know a newly appointed degree-holder living nearby. He makes Rs. 10,000 a month and his losses because of the tornado are about Rs. 25,000 but he won't get a penny," Mr. Lasantha added.
Lanumodara residents fall into the middle- and low-income category, but none of the residents of damaged houses are poor enough to qualify for compensation.
Even single mother, M. D. Premakanthi, who lives in a mud hut with her daughter and her labourer son-in-law said she won't qualify as her son-in-law brings in about Rs. 20, 000 a month. But he has been incapacitated by a leg injury for some time, during which they didn't have enough money to even eat. Then tornado came and blew off all the old, rusty tin sheets on their roof. The villagers collected these tin sheets and temporarily fixed the roof but the makeshift structure constantly leaks, she said showing polythene sheets taped together to minimise the leaking.
The residents have started rebuilding unable to wait on government compensation. Some, like shop owner Jayantha whose losses add up to Rs. 25,000 when seven asbestos sheets flew off his roof, are rebuilding with their own money.
Others have to borrow money or bear with temporary measures. Farmer Karunathileka said he pawned a necklace to rebuild his roof and a damaged barn. Mr. Njanapala, who is a shopkeeper by profession and a part-time farmer, lost all the tin sheets on his roof and about 250 tiles were blown to bits. He estimated his damage to be about Rs. 25,000 and had to borrow money to cover up reconstruction expenses. Mr. Wijethileke said his losses run up to a Rs. 75,000 he can't pay for as he is already in debt.
"In November 2011 there was high wind all over the South and many houses were damaged like this. The government didn't compensate that time either," Officer Jayalath said. "Some people are still awaiting compensation for the 2011 disaster. We built our houses on loans not expecting something like this to happen. It's difficult to rebuild everything from the foundations."Habaraduwa Divisional Secretary Ayesha U. Gunathilaka said heavy winds damaged 42 houses in Lanumodara and Pitiduwa and only 17 families actually qualify for compensation due to serious damage.
The monetary compensation comes from the Ministry of Economic Development once the divisional secretary submits the damage assessments. Maximum compensation for partial damage is Rs, 50, 000, Rs. 10,000 for injuries and Rs.15,000 for lives lost.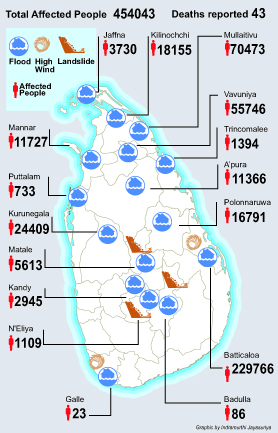 "The Rs. 3,000 income limit was ordered by a 2010 circular from the Economic Development Ministry," Ms. Gunathilaka said. "In 2011, about 2,000 houses were damaged but only nine qualified for compensation. There's a dearth of grant money too and all this happened right when 2012 ended and a new administrative year started."
The only exception to the income rule is if Parliament makes a special decision to compensate everyone regardless of income, Ms. Gunathilaka added, like they did for the tsunami victims of 2004.
On the other hand, social workers complain that people abuse the system by not taking up the initiative to rebuild on their own.
"Our people, they want the government to do everything for them," one disgruntled social worker complained. "This one time, some villagers came to us and asked for food aid claiming their village was flooded and they couldn't fire up the clay burners to cook. We went there and dug a ditch to drain the water, something none of the villagers had bothered to do."
No information, only speculation
The residents said they were unprepared and uninformed of the incident and their fear was exacerbated by all the apocalypse predictions they've heard throughout the month.
"People were already fearful of the world-ending talks, when this happened people just froze in shock," Officer Jayalath said.
Mr. Gamini said they still do not know what the wind was.
"This is not something we haven't seen ever, so authorities have a responsibility to explain this and inform people," Mr. Lasantha said. "The disaster management people and the weather people didn't even come and investigate."
Meteorology Department Director General S. H Kariyawasam said the department did not conduct an investigation.
"But from what's reported in the news, we can say that this was a tornado," he added. "Not a big one like in the United States but a small one. Tornadoes are not that unheard of in Sri Lanka, there was one in Trincomalee about a year ago."
The U.S. National Oceanic and Atmospheric Administration defines tornadoes as "a violently rotating column of air that is in contact with the ground.''
Galle District Disaster Management Centre Assistant Director Asitha Ranasinghe said tornado is not an identified disaster in the region. The region is considered prone to floods, tsunamis and landslides and warning systems exist for tsunamis and cyclones.
"These things are not predicted in advance," Mr. Ranasinghe said. "Weather forecasts might generically mention high winds in the south without saying where. At Disaster Management, we educate people on identified disasters and conduct information workshops and mock drills."
According to the Centre's statistics, seven tsunami awareness programmes were conducted in Habaraduwa.
"When it happened people didn't know what to do," Mr. Lasantha said. "The government cannot prevent natural disasters but the relevant agencies should advise people on the safety measures to take, tell them to stay low and take cover and so on. So people would know if the same thing happened at another place. If people know about this, they know what to expect and what precautions to take."
Follow @timesonlinelk
comments powered by

Disqus