Lankans fascinated by sex when using Google
View(s):

By Wasantha Ramanayake

While people are agitating and clamouring for stringent action to curb rape around the world in the aftermath of the tragedy that befell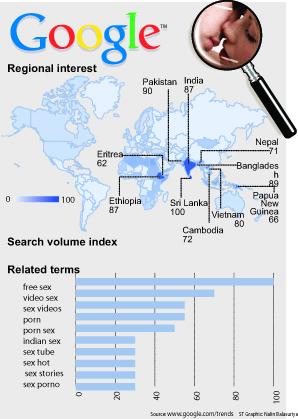 the Indian rape victim, Google Trends, a public web facility, showed the likelihood that any given Sri Lankan using Google, searches for websites using the term "sex."
While Pakistan came second it would mean there is a slightly lesser chance for any given Pakistani using Google to search for the "term' sex than a Sri Lankan user using Google.
Google Trends also explains although the number of Indians who surf the web for sex are obviously greater in number than that of Sri Lankans. Since the data is normalized, it could assumed that the internet users in Sri Lanka are normalised slightly more likely to search for the term "sex".
Google Trends also mentions that although certain other countries and regions are not in the top regions and would show zero results this does not necessarily mean that internet users there would not search for it at all.
For example, although Greenland is in the sub-zero regions it could be either that Greenlanders would use other search engines such as Windows Explorer or Yahoo, and another term relating to the term "sex."
In Latin American countries net surfers use the Spanish equivalent relating to the term "sex."
Moratuwa University Senior Lecturer Doctor Ruwan Weerasinghe said that Google data would not show any particular data regarding the age group of Google users.
He also noted that majority are users from developing countries in Asia and Africa who search for the term "sex."
Too much control will drive more youth to adult sites: ICTA chief
People sometimes surf the net for things that are not easily obtainable in society, Information and Communication Technology Agency (ICTA) Chief Reshan Dewapura told the Sunday Times.
Responding to the recent Google Trend revelation that Sri Lankans topped the world in searching for the word "sex" on the net, he said, "When society is not open about it they will look for it on the net."
ICTA is a government agency responsible for promoting IT especially in rural areas of the country.
Its mainly young people who access the internet in Sri Lanka more than the older generation and it could be that they are looking for what they cannot get freely from society, he opined.
Mr. Dewapura said in the west one found both the old and the young accessing the net and this could be the reason why the survey showed less interest in the word 'sex' in those countries. "But if you consider the same age group there could not have been much of a difference," he said adding that when there was too much control in a society, people would find other ways to circumvent it . He believes although child pornography should be totally banned one should not ban all such sites .
"We should tread the middle path and not go to extremes. There are pros and cons in any phenomenon," he added.
However he also acknowledged that it was difficult to educate parents on the misuse of technology and the importance of monitoring their childrens' usage of the net.
He said the ICTA was involved in educating school teachers and principals on technological aspects apart in addition to providing information on technology-related job opportunities to the young people across the country.
He believed that the younger generation should have formal education on the subjects of sexuality and reproduction.
Internet accessibility was widespread in the country with about five million internet users, he said adding that there were 1.3 million broad band high speed internet connections in the country.
 Blocking sites not practical: TRC head
It is practically impossible to block all adult websites but parents share an equal responsibility to monitor their children on the web, Telecommunication Regulatory Commission (TRC) Director General Anusha Pelpita emphasised.
"The TRC with the universities has so far blocked more than 2000 hardcore porn websites and around 200 websites with Sri Lankan boys and girls," Mr. Pelpita said.
"It is virtually impossible to block all adult websites because there are billions of such sites," he said adding that more than half the number of internet sites available worldwide were adult sites.
"Blocking the sites would also considerably reduce the internet speed," he explained. "The websites operators could easily change their internet protocol (IP) address, numerical labels assigned to various devices. Because of this even the blocked websites could be reactivated by simply changing their IP addresses," he said adding even China could not block all the adult sites.
He said parents could monitor their children accessing adult sites by installing parental control software available at reasonable prices.
"The TRC would intervene to make these programmes available for even cheaper," he assured.
But he argued that the TRC was not responsible for regulating such web sites "We are not content regulators only a technical regulator," he clarified.
Meanwhile, Internet Society Sri Lanka Chapter President Harsha Wijayawardhana also emphasised the importance of parental control of the internet since internet users were mainly teenagers and youth.
He said parents should also monitor their children's Face Book accounts.
"Sri Lankan culture has certain norms and there are a lot of instances where girls are abused as a result of a lack of vigilance by parents," he claimed.
He also believed that parents should be educated more on the advances of information and communication technology since children should be allowed to access the internet.
"The child's mind is open to technology," he opined.
Follow @timesonlinelk
comments powered by

Disqus