Visit to the ID office
By Sunimalee Dias (SD)
View(s):
Hopping onto a three-wheeler from office I headed to the famously known "ID office" or the Registration of Persons Department on Keppetipola Mawatha which was lined with several vehicles on one side close to the office and a security check point just opposite it. The following dialogue was in Sinhala.
Walking into the office I asked the security guard (SG) on duty as to where I could get my ID renewed:
SD: (speaks hurriedly) Go to the second counter over there.
Then I stood in the queue, which was occupied by only two persons before me and approached the counter:
Female officer: Yes?
SD: I want to get a new ID?
Female Officer: Where is your application form?
SD: Can I get an application form?
Female Officer: You have to get it from the Grama Niladhari – the one similar to what everyone else has brought along.
SD: Ok. I did not know.
I turned around to see a sea of people on two sides facing the counters seated on chairs provided outside the office. Many more people continued to file through various counters and it was somewhat disorganized as well, and continued to have a feel and look of what one would call a "typical government department." Next I walked over to the Enquiries desk which had taken quite a lot of space in the front and had a glass cover on top with only one officer on duty. While doing some desk work he continued to respond to the queries posed by a number of persons standing in front of his counter and you had to take your chance to get his attention since the man is busy:
SD: How can I get a new ID?
Man: (continues to work and fleetingly glances at me) You can get all the information from the Grama Sevaka. He knows everything.Who are you trying to get an ID for?
SD: For my younger sister.
Man: How old is she?
SD: 18 years
Man: So where is she?
SD: She didn't come today. I came to find out what documents are required to get an ID. Man: You need to ask the Grama Sevaka. And then he continues his work while the other people gathered around continue to ask him questions. After that I left.
Indifference at the Motor Traffic Dept
The next day I visited the Motor Traffic Department to find out how to get a car registered and a new licence in addition to a driver's licence. Walking through the small gate on the side I found about two security guards on duty.
SD: I want to know where to go to get a vehicle registered and a vehicle licence. Where do I go?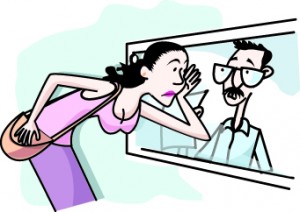 Security Guard1: What do you want to get done?
SD: (fumbles a bit) I want to get a licence for a car?
Security Guard1: (Thinks) Just go to the counter over there soon before it closes. I walk over to the counter on the roadside wherein sits two clerks who both are looking away from their desks. One guy is quite a distance from the counter and the other guy looks up only when you approach him. He was at the time reading something and then he raises his head from that position and turns around to speak to you from his counter, which is on a lower elevation and one has to bend down to talk to him in there.
SD: How do I get a vehicle licence?
Clerk: Where are all the documents?
SD: I don't know . that's why I came to ask for an application form.
Clerk: By the way where are you from? SD: From Malabe.
Clerk: Then you have to go to Maligawatte.
SD: To get it registered and obtain a licence can I get it from here?
Clerk: Is it a new car or an unregistered car? (A bit difficult to hear due to traffic noise on the road)
SD: A new car.
Clerk: Then first you have to get it registered. Where are your Customs documents?
SD: I didn't know that I needed to bring all of these – can you please tell me?
Clerk: You see first you have to collect the customs documents and then get it registered with the insurance papers. Here take this application form and take it home and read it well and fill it. (He also mentioned some other documents that I could not hear and he seemed to get tired of me as well.)
SD: So why did you tell me to go to Maligawatte?
Clerk: That's because you have to get it registered from there.
SD: Ok. (I was by now more confused and so I moved away a bit.) Two other persons walk in and once again approach the same clerk while the other one continues to be at a distance from his desk doing some other work. Then I approached the same clerk to find out how to get a driving licence.
SD: Then can you tell me how do I get a new driving licence?
Clerk: This is not the place for that so just read that notice.
While I read the notice the other two guys are talking to the clerk. I read it half-way and after the two other persons left, approach him again:
SD: So then where do I get a new driving licence from?
Clerk: Why didn't you see it on the notice? You have to get it from Werahera. Just read it again will you?
I again read the notice fully and then found out that the licence has to be obtained from Werahera with the location's bus route and directions given to get there.
Clerk: Didn't you read it properly? Aney Aney!!
SD: Aaah So I have to get it from Werahera? Can't I simply apply through a driving school?
Clerk: You see they will just charge you a huge amount. So, what you can do is just go for the driving test and submit an application at Werahera.
SD: Ok. Then he continued to turn to a side after that and continued to read whatever book he had before I arrived.
Follow @timesonlinelk
comments powered by

Disqus