President acts fast on child's plea
View(s):

Widely acknowledged both by ruling party as well as opposition members for his excellent public relations skills, President Mahinda Rajapaksa, has for some time now embarked on a new drive.

At least twice a week, he meets school children from remote areas. They take place in the lawn of 'Temple Trees'. He asks them about their studies and answers questions or problems put to him on a variety of subjects.

Last Thursday, he met a group of students from the Uswewa Junior School in Hambantota. A fifth grade student complained to the President that the school does not have teachers for English and science. Rajapaksa told his aides to get Chandima Rasaputra, Minister of Education of the Southern Provincial Council, on the telephone. He then told the student to tell her complaint to him.

Later, Rajapaksa took the receiver from her and told Rasaputra to promptly follow up the request. Rasaputra went to the school on Friday and arranged for the two new teachers to start work from Tuesday.

The problem is whether by sorting out one problem, another is being created somewhere else.

Karu and the coup

UNP MP Karu Jayasuriya has responded to our story last week saying that he was not a lonely figure at the wedding of a party stalwart's son only 24 hours after he had failed to make an appearance at an anti-Executive Presidency rally due to an order from the party hierarchy.

"There were more people around the table where I was seated, than the table where the so called 'recognised' were seated", he says in a letter to us.

He also refers to the portion of the story that stated he was part of a political coup engineered by former President Chandrika Kumaratunga to oust the then Prime Minister Ranil Wickremesinghe. He says that "is a baseless accusation," but says no more. We were alluding to what the UNP members were talking about at the wedding. It might be worth asking some of those involved in the alleged political coup if there's a ring of truth to what they were saying.

Foul play on playground

Residents of a housing scheme at Gonawala in Kelaniya are up in arms after their playground was suddenly encroached upon. Last week several men forcibly occupied it and put up a board saying the land is the property of the Biyagama Pradeshiya Sabha.

Since then the residents have made representations to the Pradeshiya Sabha in the area asking that the grounds be restored to the residents of the scheme.

A Writ of Prohibition will be filed in the Court of Appeal on Tuesday in this connection.

Full names cast out

It is decades since Sri Lanka officially did away with the caste system and took measures to ensure officials in the State sector did not discriminate.

However, last week recipients of diplomas at the Engineering Technology Institute were embarrassed. Their full names, evidently reflecting their caste, were read out when it came to awarding of certificates.

Youth Affairs and Skills Development Minister Dullas Allahapperuma, who was giving away the certificates, promptly ordered his officials to stop reading out the full names. Soon, the announcer called the surnames and referred to other names with only their initials.

Sky is the limit for this flying magnate

Did a flying type spend Rs. 80 million to refurbish his luxurious official bungalow in Colombo? A discreet probe, now underway, has revealed that he not only set up a bar, and a karaoke theatre but also had 52-inch TV screens in many places. This is among the new changes he had made.

 Sinhala sugar in Chinese plum

The side event drew more attention than the main event at the Parliamentary complex in Kotte last week. The Sri Lanka-Chinese Friendship Association was meeting there. Whilst others were discussing official business, Deputy Speaker Chandima Weerakkody was seen teaching Sinhala to the Chinese Ambassador Wu Jianghao.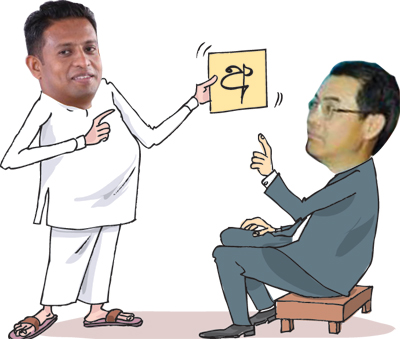 Many Chinese diplomats over the years have studied Sinhala and had some of our diplomats caught off-guard. A famous story in the Foreign Office is how a director in charge of China told his office aide to bring tea for the Ambassador and added "seeni wenama genna – meminihata diyawadiyawa thiyanawada danne naa (bring the sugar separately; don't know if this man has diabetes)."
The then Chinese Ambassador had gone through with the meeting in English and on his departure said, with a chuckle, "mahatmaya, mata diyawediyawa nan nehe (Gentlemen, I of course don't have diabetes)," much to the embarrassment of the senior local diplomat.
Mahanayake warns Fonseka of half-way friends
Former Army Commander Sarath Fonseka called on the Asgiriya Chapter Mahanayake, the Most Ven. Udugama Sri Buddharakkitha Thera, to seek blessings and advice.
This was after he was invited to join the coalition against corruption headed by a leading member of the Buddhist clergy, Ven. Maduluwawe Sobitha Thera.
The Mahanayake Thera's advice to the former military strongman was to stay away from people who join him on half the journey and abandon him in the middle of it. Fonseka's reply was that he would heed the prelate's words of advice in the future.
Mervyn gets Buddha off the bill
Last week we wrote about Public Relations Minister Mervyn Silva ordering a Sri Lankan embassy car to come all the way from Geneva to pick him up from the Zurich airport to take him a few kilometres to a hotel in the city. Now comes the story of him having a meal at a hotel in Slovakia. After he got the bill from the waiter, Minister Silva was enraged.
He sought a meeting with the manager of the restaurant and lodged a complaint. The Minister had noticed the Buddha's image printed in the bill. He demanded that the manager remove it. The manager agreed. Be it in Sri Lanka or Europe, Minister Silva is an enigma.
Ranil-Sajith in cordial talk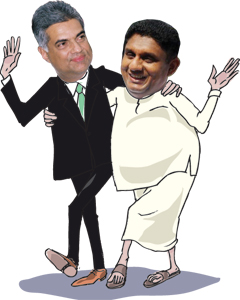 "Machang ada maru ney….. Mata appudiyak gahanna hithenawa….Ada Kochchara hondata kathakaragan innavada…. (Today it's amazing. I feel like clapping. They are speaking to each other in such  a good way…)."  Those words came from UNP National List MP Harsha de Silva.
He was telling his party colleagues how pleased he was to see UNP leader, Ranil Wickremesinghe speaking cordially with his deputy, Sajith Premadasa, when their Parliamentary group meeting at Siri Kotha ended last Tuesday.
Lively cover-up by MCNS
The Media Centre for National Security (MCNS) recently sent out an invitation to local and foreign journalists. This is what it said: "Special Programme will be held on 30th October 2012 to recover the remains of 'LION AIR" Air Craft which was attacked at Mannar Beach on 29th September 1998 by the LTTE.
"To cover up this public awareness programme lively at the aforesaid place. Please make necessary arrangements to send a media team on 30th October 2012. Transport facilities will be provided by the State Intelligence Service.
"Media teams will have to stay their till the Programme end up. Further details will be provided later."
Though the intention was to ask the media to cover the event, the opposite is reflected in the letter – "…to cover up the public awareness programme…" This is perhaps the first time a State intelligence arm is taking part in a media event. As one witty media person remarked "the cover of the men who operate secretly will be blown."
Follow @timesonlinelk
comments powered by

Disqus