Nature tour
By Savindu Herat (11 years), Kid Reporter No: A – 06, Royal Int. School, Kurunegala
From our Kid Reporter
View(s):
I was very fortunate to get this special chance to visit Sinharaja National Heritage Wilderness area, Udawalawe National Park, Elephant Transit Home and the great pottery centre Mankada.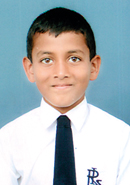 I was selected as a lucky winner of the World Environment Day 2012 competition. It was organized by Dilmah Conservation together with the Sri Lanka Association of Science, the Field Ornithology Group of Sri Lanka, the United Nations Environment Programme and the Funday Times.
We started our journey by a luxury bus from Colombo on August 25. The seven winners, each with a parent were accompanied by Prof. Sarath Kotagama and staff from Dilmah Conservation and Funday Times.
First we reached Sinharaja. Caps and T-shirts were given by Dilmah. Prof. Kotagama explained the trip to us on the way.
At Martins Lodge in Sinharaja, we had a delicious lunch.  Professor gave us valuable knowledge about fauna and flora in Sinharaja Rainforest, a Heritage Site. We saw a lot of endemic plants and birds and fauna and flora. The professor helped us in this and gave us a valuable lecture in the night.
Early next morning we went in search of bird calls, plants, flowers and animals. We saw the massive tree in Sinharaja named Giant Nawada.
The organisers gave us permission to bathe in a stream. Our luxury bus accompanied us to Centuria, the tourist hotel in Udawalawe. We listened to an important lecture given by Prof. Kotagama, based on Sri Lankan culture.
After dinner we went into our rooms and had a good sleep. On the following day, there were three safari jeeps near the hotel. The winners got into one jeep with Prof. Kotagama, the parents and the staff in the other two.
We received a lot of information from the Udawalawe Research Centre. We noticed a large number of animals. Elephants, flocks of birds, a python, leopards, a herd of buffaloes and so many creatures were roaming in the forest.
The Elephant Transit Home was an interesting place. We saw how the baby elephants are treated. They were looked after by trained helpers. After getting so much information about our pet elephants we came to the famous pottery centre, Mankada.
We had lunch at Mankada and they interviewed us individually. Speeches were given by every winner. An aunty taught us to make an elephant using clay.
We used the 'Sakaporuwa' machine and made beautiful pots. We had fun with clay which was the most interesting part. In the late evening we departed from Mankada and hurried to Colombo. We were like one team so we were sad to separate from each other. We thanked the organizers for giving us a valuable and educational trip and once again I thank them from the bottom of my heart. I also thank Funday Times for their hard work.
Special thanks to Prof. Sarath Kotagama who devoted his precious time to explain to us about fauna and flora. I think I am being converted to an eco-friendly kid after this great trip.
Follow @timesonlinelk
comments powered by

Disqus