The American International School: A quality education provider
View(s):

The American International School located at Galvihara Road, Dehiwala is one of the prestigious schools in the Colombo District. It is the brain child of Mrs. Sherryn Yaseen Mangalagama, CEO of the American International School and the American College of Higher Education who believes that an appropriate education is the most precious gift that can be endowed to children, which caters to future minds with a highly qualified and caring staff.

The school which is a subsidiary of American College of Higher Education that has been approved by the Southern Association of Colleges and Schools (SACS), a regional accrediting body in U.S.A., follows Modern Teaching Methodologies and is in tune with the education philosophies like those of Howard Gardner, which state that children's intelligences are multiple, considers developing different abilities and also is mindful of how they acquire learning.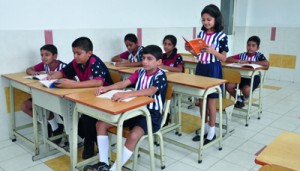 The facilities provided in school are meant to achieve that goal. For the higher achievers there is an excellent library with a qualified librarian. Students can browse the internet facilities under guidance. They are motivated towards research themselves. The IGCSE OL exam results of 2012, with 95% passes for those who have sat in 6 subjects or more prove the point.
Multi – media equipment is available for teachers to be used in class-room teaching and for students to do their own presentations. While breaking the monotony of teacher – centered education it also ensures student participation and makes students confident speakers.
The swimming pool is a big attraction. Using American technology the swimming pool is kept clean and water purified without chlorine which is said to be allergy causing.
The air conditioned auditorium is a multi – purpose structure. Housing a large audience for concerts, musical evenings and other public shows, it also could be converted to indoor courts for badminton and basketball.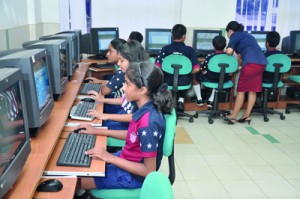 The American International School provides facilities for children to engage in popular games like soccer, cricket, basketball and badminton and indoor games like chess and carom.
Scouting helps students to acquire many skills and is open to both boys and girls, who like out-door activities and development of physical skills.
To the aesthetic minded, there is dancing, both eastern and western, in a special mirrored dancing room.
Choir training and facilities for students to be members of a Western band or in a Hewisi band are provided.
An attractive feature of the school is its cleanliness. Emphasizing on cleanliness, motivates children not to litter the school premises and also to value a clean environment anywhere, as a habit. With much expense to the school clean and safe water is provided for drinking, thereby discouraging students drinking water straight from taps.
Discipline is considered of utmost importance as little learning could take place in a disruptive and undisciplined environment. Other than corporal punishment much is done to keep children occupied without leaving room for indiscipline. Cooperation and dialogue between parents and school is encouraged. Students too are motivated towards internal discipline rather than fear of punishments
Finally, American International School respects different ethnicities, cultures and religions. Hence 'uniting hearts' as in the motto is a priority.
The management is responsible and child-friendly. The staff is caring and trained to be helpful. The answer to the parents' question to which school should I send my child is not difficult to find.
Follow @timesonlinelk
comments powered by

Disqus