American Degrees from the ACHE
View(s):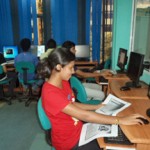 Every parent wants to give his/her child the best possible chance to make something of their future and in today's world there are so many options, some purposeful and the others simply a claim without substance. With all the advertising and hype around various institutions how do parents know what's best? What better way to ensure your child's future than to give him/her an opening into the land of dreams and what better way to make sure of this than to give them an education from the land of dreams; United States of America.
True to form, in the recent past there has been a large movement of foreign students from around the world relocating to the United States for their education and this move has proved to be highly beneficial for many reasons, but due to rising costs sending your children straight after school may prove to be extremely expensive.
There is a tertiary education centre situated just beyond the city limits of Colombo in Dehiwela which is the American College of Higher Education; this institute offers the initial curriculum locally and completion thereafter in the United States, thereby offering a cost effective solution. With five locations around the island, this college aims to broadbase the locations thereby affording a location of convenience in addition to supplementing the cost.
Why the States?
The quality of the institutes, organization and material at the Universities in the United States are unprecedented, students have to face up to deadlines, instant tests and have to constantly be up to date with their information to ensure they keep up to the mark. In addition to this, the multitudes of options from specialisations, majors and courses in the various subjects that students can partake in are vast. Not only are students spoilt for choice in areas of study but they also have the luxury of choosing from various special study options like accelerated growth, double degrees, internships and so forth.
Scholarships are gifted to those who are the best and many of the recipients are foreign students and are valued at up to $29,000. Monetarily investing in a degree from the United States in reality brings back healthy returns, as it gives a student the foundation for a life of success. There is always an option for everyone in the States, regardless of whether you maybe a school leaver or a mother of four.
The American College of Higher Education now gives school leavers in the island the fabulous chance to start off an action packed career by giving you the chance to start a degree at just 16; after your O/Ls. Not only does it have the airs and atmosphere of true college life but the degrees provided are some to marvel at.
The school is an International Centre of Broward College Florida, USA that is accredited by the Commission on Colleges of the Southern Association of Colleges and Schools to award bachelor's and associate degrees. Also affiliated to North Dakota State University and Excelsior College both which are accredited to North Central Association of Colleges and Schools and Middle States of Association of Colleges and Schools respectively. So when the time does come for you to finish your degree, you only open more doors, and one can never go wrong with many options!
What exactly is an accreditation?
The American Educational System is a vast system of many standards and as it proves to be rather impossible to keep track of the different types of educations offered by different universities as there is no Ministry of Higher Education. Due to this, a voluntary process is in place to detect which educational institutions have achieved a particular standard of academic brilliance and it is very rare for universities outside the States to be the recipient of an accreditation.
American College of Higher Education is the only American Education provider in Sri Lanka to be approved by a US regional accrediting body. ACHE is approved by southern Association of Colleges and schools (SACS) USA.
The chance to receive a degree from schools such as this provides the future of our country with the confidence and backing of an investment of an education that will enable them to surpass any obstacle that this fast and dynamic world would throw in their path. Students who do not wish to leave the country to finish their education can stay here and obtain a degree that is accredited via the institutes listed above in the fields of, Human Resources Management, General Business and Information Technology.
The facilities provided here complement the mission of the college perfectly, with students from Malaysia, Canada, Maldives, Pakistan and the Philippines; students are exposed to cultures so diverse and this enables them to be more at ease and have the assurance that they need in themselves later on to truly experience the many facets of our diverse world.
Healthy competition is encouraged amongst students by pushing students to campaign for various positions in the student councils and these councils during the course of the year plan sports, socialising, cultural and charity projects.
All American Bachelors degrees last four years and American College of Higher Education believes in giving students a jump start on their career making it possible for students to start down the road of a degree right after O/Ls and those who do go down this path inevitably end up being ahead of their peers, even if you do not meet the criteria, the College has a strong support group and offer students with more than adequate help to surpass the basic requirements to enter.
Those who have completed A/L's are exempted from either a semester or two's work; this is determined by the credits they score. Credits are the points awarded to students based on performance and time spent on a subject.Students who fear they might have trouble switching from the Sinhala medium to the English medium are also provided a way to overcome this obstacle by enrolling in a, "Developmental English" program that brings up to par of the usual requirements one would need to complete a degree.
Students have the option of choosing from over 145 degrees including Journalism, Liberal Arts and Mass communication; these mentioned subjects are rather tedious to follow in our island as not many options are available to pursue these degrees, much less one from an internationally reputed school. Most of them are offered here at the degree level, students can opt to do two years here and then finish the final two years in a country of their choosing.
Upon completion of the two years here, the staff at the college also aid students by screening them and giving them the best possible options for their future. SAT and TOEFL classes are offered so students never have to go elsewhere to help them pursue bigger dreams in bigger lands. Students on completion can transfer to more than 400 universities in USA and elsewhere.
In today's dynamic and fast paced life, we face challenges that less than fifty years ago we deemed impossible! Improvements in technology not only bring us closer to other parts of the world but also sometimes prove to be cumbersome due to the general difficulties people face when communicating with people who possess different cultural backgrounds! Having a degree from an internationally recognised institute would do wonders for the level of confidence for an individual, especially when having to communicate with foreign individuals. Our island's level of education is extremely high and competitive but sadly it is not recognised in many parts of the world, which gives students from here a big disadvantage when it comes to competing for worldwide positions. It is indeed true that one can be satisfied with making the best of a degree obtained from the local education industry, but is it right to provide one's child with an option that will merely satisfy, when you can give him\her a brilliant option .
A degree from a foreign affiliated school will open and give way to many doors both here and abroad! The atmosphere at the college not only gives your child the best start possible. Visit the American College of Higher Education at 23, Hospital Road, Dehiwala or e-mail admissions@americancollege.lk to begin the start of an extraordinary life for your child.
comments powered by

Disqus