A peek inside the University of Melbourne by Ezra Anthony
View(s):

Choosing an appropriate place for higher education is one of a major problem faced by most of the students. There are thousands of Universities around the world, hundreds of good universities amongst them but, the question is which of the lot will be suitable and which one will provide the exposure and environment you seek. This caption will give you a clear view about one of the best Universities in the world, and a well renowned one: to give you a better insight about the University I had the privilege of having an interview in Colombo with the Regional Manager, of The University of Melbourne, Australia, Elizabeth Stoltz.

The University of Melbourne is an internationally recognized; research intensive University with a strong tradition of excellent teaching, research and community engagement over 150 years. It is a member of Australia's "Group of Eight", the Universities 21 and Association of Pacific Rim Universities networks.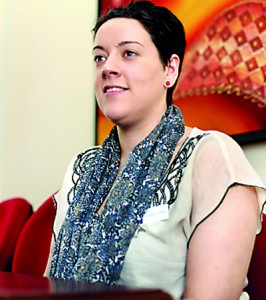 Melbourne's outstanding performance in international rankings puts it at the forefront of higher education globally. It is ranked 37th worldwide on the Times Higher Education scale, 57th worldwide on the Shanghai Jiao Tong scale and first in Australia. It is also ranked fourth in the world for graduate employability by the QS World University Rankings.
The University of Melbourne is very popular amongst Sri Lankan students. Ms. Stoltz also added that Sri Lankan students fare very well and usually are found among the best students of the University. In return the University is also happy with the students' performance. Sri Lankan A/Ls are accepted for student enrolment along with London A/Ls and IB.
What makes the degree programs at UOM superior to the other universities I asked Elizabeth. One of the main reasons that the University stands out is because of the constant upgrading of their degree module according to industry requirements.
The uniquely Melbourne experience of incorporating six broad undergraduate degrees in Arts, Biomedicine, Commerce, Environments, Music and Science reflects a well-established international trend in higher education in the US, Europe and increasingly across Asia.
The degrees give students the option of going straight into careers, doing a professional degree or doing a research degree and provides students with a well-rounded education that will help them meet their career aspirations and life goals, not just on completing university, but well into the future.
As for post graduate studies she said that being a leading research university in Australia they have a broad range of post graduate study opportunities that involves 17 graduate schools enabling the students to select the correct field they want to graduate in. The UOM has bilateral agreements with international institutions in 35 countries.
This means academic staff from other countries regularly visit and lecture at the University. UOM has around 135 exchange partners in over 32 countries around the world. Most post graduate students of the University are eligible to apply for an exchange place to access international study through a range of scholarships, semester-long study abroad programs, short-term programs, single subjects overseas as well as work and internship opportunities. Also being one of the best Universities in the world, employers from all over the world come to recruit students.
Studying at Melbourne means students will join the best and bright students from over 120 countries in a safe and friendly campus environment. Elizabeth added that Edlocate has served well as a prime UOM agency in Sri Lanka and the Maldives by helping students to join the university including assisting high achiever students to obtain scholarships.
The combined work of Edlocate with the University of Melbourne has helped many Sri Lankan students to complete their higher education at University of Melbourne and enjoy perks of highly paid and satisfying employment .
If you want to know more details about studying at The University of Melbourne there will be an information session held at the Cinnamon Grand Atrium lobby on the 13th of September 2012 from 5.30p.m to 6.30p.m. Students along with their parents are most welcome to this event added Elizabeth and those interested were requested to contact Edlocate.
Follow @timesonlinelk
comments powered by

Disqus