Why you should meet Australian University Representatives at Edlocate
View(s):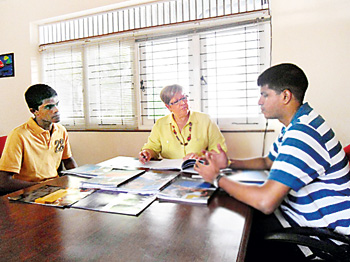 Edlocate has arranged a number of university representatives from reputed Australian universities including several Go8 universities to visit Sri Lanka in the second half of August and first half of September. Year after year these visits have been proven to be of immense help to prospective students and parents. The universities represented by Edlocate have responded positively year after year with regular visits to Sri Lanka because they are happy with the quality of Sri Lanka students we have been sending to the universities for tertiary studies.
The university representatives from the international offices have first hand knowledge of the new programs offered, changes to selected programs and the career prospects linked to courses of studies based on the alumni of theirs. They also can guide and assist students with excellent results to apply for scholarships at both undergraduate and post graduate levels. Post graduate students could be assisted with selecting their courses of studies by assisting them to link with appropriate supervisors. Students with excellent O/L results could seek graduating in an accelerated manner through university Foundation programs. Students with less than sufficient direct entry requirements can get advice on pathway programs to a degree.
With Australia introducing post-study "Work Visa" for international students from 2013, it will really help students to correctly pick areas of studies that would give them the opportunity to get work experience in their field itself. Though the government grants work visa for students there is guidance given to them on selecting work related employment. The ability to get paid work in the area of study itself would depend on the job opportunities available, the demand for the skills in Australia and the students ability to secure positions based on their academic results and capabilities. The representatives will be the best people to clarify these aspects.
Edlocate counsellors will be involved in all these interview sessions together with the visiting university representatives. They will be able to assess students meeting the student visa criteria as Edlocate is a Streamlined student agency appointed by the Australian High Commission in Colombo and are fully conversant with visa regulations. The Edlocate counsellors will also be able to follow up on genuine students following these interview sessions to handle enrolment and subsequent visa processes working with students and parents.
Why participate in these interview sessions? Students who are willing to lodge applications for placements through the visiting representatives will not be required to pay application fee normally levied. Unlike in an education exhibition these interview sessions are scheduled on prior appointments. You do not have to wait hours and hours in a line to get your chance to meet with a representative with a high demand for a few minutes. You have strict privacy to discuss what ever your concerns are and clarify.
Reputed university representatives like Edlocate with over 12 years of experience do not charge a fee for the services from start to end. We do not bind students in any manner with financial commitments what so ever. We lay down all options for you to decide. So why apply directly to get a placement and then seek the services of an agent to handle complicated post application processes. Contact Edlocate in Colombo (011 5219129) and Kandy (081 5631583) to make appointments. Please refer to our advertisement in this supplement for more information.
Follow @timesonlinelk
comments powered by

Disqus