CINEC Welcomes President of Seychelles
View(s):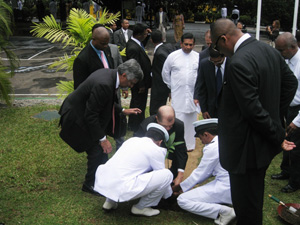 The 22nd of August 2012 marked a special day for The Colombo International Nautical and Engineering College (CINEC) as the campus was graced by His Excellency James Alix Michel, President of the Republic of Seychelles accompanied by Foreign Minister Jean-Paul Adam, Natural Resources and Industry Minister Peter Sinon and a distinguished delegation from Seychelles. Accompanying President Michel and his delegation were Hon. Dr. Rajitha Senaratne, Minister of Fisheries and Aquatic Resources Development and officials of the Sri Lankan Ministry of External Affairs. His Excellency and his distinguished delegation were warmly received by Mr. Hemantha Jayanetti, Chairman of the Ceyline Group of Companies, Mr. Lucky Wikramanayake Deputy Chairman, Capt. Ajith Peiris Group Managing Director, the Directors of CINEC, along with the Senior Management and Staff and accorded a ceremonial welcome by the Navigation and Engineering cadets.
Soon after the ceremonial welcome, President Michel and his delegation who toured the campus, was given a brief about the campus infrastructure and the study programmes conducted at CINEC by Capt. Ajith Peiris. His Excellency and the delegation were most impressed by the high quality standards maintained and the facilities available for both Local and Foreign students with the provision of state-of-the-art Laboratories, Fire Simulator, 3D Marine Simulator, comfortable classrooms, along with sports and recreation centers.
After touring the campus, discussions were held between the CINEC Board of Directors and Management and the Seychelles delegation regarding the conducting of training programs for students from Seychelles right here in Sri Lanka, as well as in Seychelles, to meet the ever increasing demand for training programs in the Maritime field, Engineering Degrees, Transportation & Logistics and Industrial Engineering.
CINEC is Sri Lanka's largest private higher educational institution, catering to over 14,000 students annually by offering a range of over 175 study programs with high quality standards by accrediting the ISO 9001: 2000 Quality Management System, ISO 14001: 2004 Environmental Management System and OHSAS 18001:2007 Occupational Health and Safety Management System, and DNV Standard for Certification No. 3.401 Maritime Academies November 2004, and 5S Concepts. Concurrently, the organization is certificated to Five Internationally recognized management Systems. The College has the distinction of being the first and the only Educational Institution to be bestowed with the prestigious National Quality Award thrice in 1999, 2004 and in 2009.
CINEC Provides students with cost effective internationally recognized programs, having branches in Colombo City, Trincomalee and Jaffna, CINEC reaches out to youth from all parts of the island.
CINEC Campus continues to raise the high standards of international education by winning the prestigious global award "International Asia Pacific Quality Award 2010 – Best in Class for Education Organization "and the "World Class Global Performance Excellence Award 2012" award.
Mr. Hemantha Jayanetti stated that it was a great honour and privilege to receive His Excellency President Michel and his delegation at the CINEC campus and looked forward to strong ties in the future.
Follow @timesonlinelk
comments powered by

Disqus