The APIIT Law School Team emerged runners up in the national finals of the 11th Henry Dunant Memorial Moot Court Competition for the South Asia Region organised by the International Committee for the Red Cross (ICRC) held recently. The winners from the National Rounds proceed to New Delhi for the Regional Rounds, and the winner competes in the Asia-Pacific International Rounds. The Moot Competition is aimed at educating students in the field of International Humanitarian Law.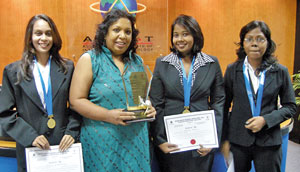 The Winning APIIT Law School Team: Dinusha Weerawardane, Nadeesha Mendis and Achini Ranasinghe with Ms. Marini De Livera, Senior Lecturer.
Each team consisted of three members: two counsel and one researcher. Participants were required to submit two memorials; one for the prosecution and one on behalf of the defence. The problem was a fictitious case. There were three teams participating in the National Rounds, namely APIIT Law School, Royal Institute and the Colombo Law Faculty. The APIIT Law School team comprised of Dinusha Weerawardane and Nadeesha Mendis as counsel, and Achini Ranasinghe as researcher. The team was coached by Mrs. Marini De Livera, Senior Lecturer of APIIT Law School a highly experienced Speech and Drama and Communications Skills Professional who has worked in Sri Lanka, Seychelles and the UK in this field.
It was the first mooting experience of these talented three young students. They were also the first mooting team of APIIT Law School. Countless days and sleepless nights were spent on preparing the memorials. For a period of approximately two months, IHL was what they lived and breathed. All these efforts were well worth it, for APIIT Law School breezed on into the finals against Colombo Law Faculty.
Nadeesha (22) said, "This moot competition landed right in the middle of my banking exams so it was really hectic, but it was a very enlightening experience because we became experts in the field of IHL in less than 2 months. Mrs. Marini De Livera was the reason for our success, since we would not have even known about this Moot Competition if not for her…"
These three budding lawyers were seen to be brimming with confidence, dressed up in professional attire and carrying a heavy pile of legal books during the days of the Moot Competition. Achini (22) had this to say, "I think we borrowed half the library. We definitely read all the 'very-latest' IHL-related books which were available in our Library. The Staffordshire University online database was also very useful. Our librarian, Ms. Ruwandi was really helpful and our Programme Leader Ms. Susan Green ordered all the extra books we needed. We are really grateful to all our lecturers and staff at APIIT who supported us in every possible way..."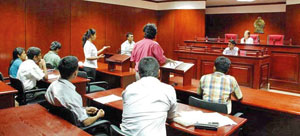 It was a tiring but very educative experience for the APIIT mooters and one that will definitely be counted as a landmark in the students' professional development. Extra credit must be given to the three students, as none of them had ever studied International Humanitarian Law previously.
Solicitor General President's Palitha Fernando, who was one of the Judges of the competition, said:
"The manner the APIIT Team answered the incisive questions fired at them in quick succession was amazing. I don't think even lawyers can produce such intelligent answers while being on their feet."
Dinusha (20) voiced her opinion, "We did an excellent job and I am really proud of our team. We were able to exceed expectations and set a benchmark of the highest order for future APIIT mooters. It would have been evident to any independent observer present on the day of the finals, that APIIT Law School was excellent in their oral deliveries..."
Mooting is a vital part of APIIT's Law teaching programme because the Law School believes that it is confidence, poise and oral communication that will help their graduates to stand out when they enter the job market.
The unique Moot Court at APIIT Law School
APIIT Law School offers a comprehensive Internal British Degree in Law awarded by Staffordshire University at its dedicated campus with state- of- the- art facilities, including the unique Moot Court. Surely, it's more than a degree that you will receive at APIIT Law School! Students wishing to experience the APIIT Advantage and register for the next intake in January 2012, are advised to contact Ms. Senani on 0117675105 or info@apiit.lk, or visit our state- of- the- art APIIT Law School at Union Place, Colombo 2 for further information and assistance.