Once again, Oxford College of Business (OCB) the market leader for ABE in Sri Lanka, has emerged on top, bagging two world prizes in the recent round of ABE examinations held in June 2011. Ms Sonia Ariff achieved the high-scoring result for her efforts in "Economic principles and their application to Business" whilst, fellow student, Ms Dinithi Vishara won the world prize for "Corporate Finance."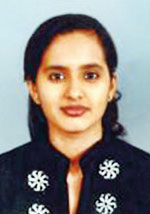 Sonia Ariff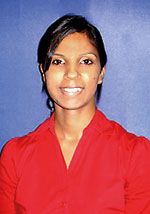 Dinithi Vishara
Since its inception, in 2003, Oxford College of Business has provided students with a means to earn internationally recognised, professional qualifications, in Sri Lanka. Oxford College of Business, which prides itself on its dedicated panel of lecturers and first-rate facilities, maintains affiliations with the Association of Business Executives (UK), Australian Institute of Business Administration (Australia), and Herriot Watt University (UK), to name a few.
The Management of Oxford College of Business would like to Congratulate Ms. Sonia Ariff and Ms. Dinithi Vishara for their outstanding achievement. Furthermore the Managing Director of OCB also added that "it brings great pride and honour to be able to continuously produce world prize winners at every ABE examination consecutively since 2004. OCB is the only institute in the country which has been able to maintain such a track record which clearly differentiates OCB from the rest of the ABE providers in the country. Once a student joins OCB they are molded and disciplined to face challenges and meet organizational objectives at junior management levels. We feel this is a very important foundation which needs to be embedded into executives at junior levels of management, in addition to giving young executives the self confidence and a qualification to brag about."
Students who successfully complete the course are inducted as professional members of the Association of Business Executives, UK, which makes them eligible to sit for degree finals in many universities, both locally and internationally.
ASSOCIATION OF BUSINESS EXECUTIVES (ABE) UK
The Association of Business Executives (ABE) is a professional membership body and an examination board. ABE has developed business and management qualifications at Diploma (Level 4), Higher Diploma (Level 5), Graduate/ Graduate Integrated/ Extended Diploma (Level 6) and Postgraduate Diploma (Level 7). ABE qualifications provide progression routes to degree and Masters programmes worldwide and is regarded as one of the best professional qualifications in Sri Lanka.
Based in London, ABE is an-awarding body, which offers a qualification that is accredited by the Qualifications & Curriculum Framework (QCF) of the UK government and is the qualification of choice for potential employers and hopeful business professionals worldwide. The course format, is such that it grooms students for a career in business management, or acts as an advanced entry level qualification towards a university degree, in the UK, and many other countries.
Once a student completes the Post Graduate Diploma the ABE qualification give students many options. In addition to the fact that students enter the workplace with a highly valued post graduate level qualification, students are also able to enter the final year of a degree programme at universities around the world. Students with 3 years of managerial experience are able to join an MBA programme of their choice once they complete the Post Graduate Diploma level.
Round up your ABE qualification with a BBA from The Best ranked British University in Sri Lanka
Students who complete the Graduate Diploma Level are now able to progress to the final year of their degree. OCB now gives all ABE Graduate Diploma holders the opportunity to round up their ABE qualification with a BBA from the prestigious Heriot Watt University.
Heriot-Watt is one of the UK's leading universities for business and industry and has a reputation for innovative education, enterprise and leading edge research in science, business, engineering and design. Heriot-Watt is often referred to as Scotland's international University, with a third of on-campus students in Scotland coming from out with the UK. In recent years, Heriot-Watt has continued to achieve steady growth in the number of international students studying at Scottish campuses and notably growth was at 20% in the last two years. This has resulted in the University now being amongst the most successful UK Higher Education Institutions in attracting international students, now worth 20% of overall institutional income and in the region of £30 million per annum to the University.
This success was recently noted in the Financial Times, profiling Heriot-Watt as second only to the London School of Economics in the UK in attracting such a high percentage of institutional income from international markets. International students accounted for 35% of the overall student numbers on Scottish campuses in 2010, making Heriot-Watt one of the most internationally diversified universities in the UK.
Heriot-Watt University is internationally renowned for its innovative education, enterprise and leading-edge research. With campuses in Scotland and Dubai and 17,000 students in 150 countries registered on its courses. Home to Europe's first Research Park, with a current turnover of over £70 million, the Park provides the best possible location for companies to undertake the development of new products, processes and services, with access to the services and facilities of the University.
Obtaining an internal degree from University with a history of over 200 years is a very rare opportunity which all ABE graduates are now privilege with. 10 years ago this would have only been a dream, but today thanks to Oxford College of Business this dream has come true to all ABE Graduate Diploma holders. The BBA degree programme offered by Oxford College of Business in affiliation with Heriot Watt University provides a broad grounding in all of the key business disciplines. Graduates with the BBA will be equipped to excel in a range of management and professional positions.