Colombo Institute of Research and Psychology added two more programs to its list of academic & professional courses by introducing a Diploma in Counseling & Psychotherapy and a Diploma in Health Psychology. These two are considered the most innovative psychology programs so far introduced in SrI Lanka.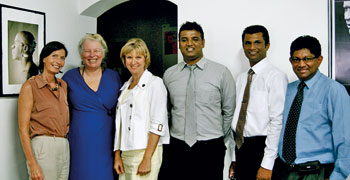 Academic Director & Dean of CIRP with the Dean and Head of the department from University of Hertfordshire and the university representatives
The Counseling and Psychotherapy program is a one year program and is designed to provide comprehensive knowledge and skills required to function as a counselor and a psychotherapist. During this 12 month course students , will be exposed to a range of counseling techniques and psychotherapeutic methodologies. It also covers basic areas such as counseling approaches, abnormal psychology, general psychology and Child psychopathologies that are a part of any common counseling program.
But what makes this program exceptional is that it covers areas such as counseling hypnotherapy, Substance abuse counseling, spiritual and faith based counseling and relationship and group counseling. In most of the average counseling courses these topics are taught superficially as sub topics of one module, where this program teaches each method in depth as each therapy is allocated a full module. The Program also includes art therapy, music therapy, drama therapy, bibilo therapy and play therapy.
This program is supervised by Dr. Janet LeValley, the academic dean of the institute and she herself is to cover majority of the sessions. Dr.Janet is an American psychologist and a certified counselor and hypnotherapist with a doctorate in cross cultural psychology from California. She has worked as a psychologist, a counselor and a psychotherapist in many parts of the world and her research area is trauma responses and therapy. She is also an internationally well acknowledged academic, having worked as a professor, associate professor, dean and the chair in psychology departments in numerous universities during her 40 year career as a scholar. She has published more than 20 books and many more research in several areas of psychology. Other modules of this program are handled by two experienced trainers with M.Sc. level qualifications in psychotherapeutics.
This is the first time a Diploma in Health psychology is being introduced in Sri Lanka. Professionals in the fields of Health, Health administration, Health promotion, Community Health as well as individuals interested in the areas of prevention of substance abuse, management of stress and pain in day to day life as well as in chronic illness would definitely benefit from this program. During this 6 month course students will also be trained in pain and stress management skills & techniques.
The Health psychology diploma is going to be supervised by Ms.Laina Dadlani , a professional in the area of health psychology and health promotion. Her experience in working in Australia and Indonesia as a Health psychology specialist would expose students to the latest knowledge and skills in the respective areas of study. Her expertise as a consultant to UN in Indonesia would be also a definite benefit to students in understanding more operational and practical aspects of health psychology.
Apart from these two new programs , the Colombo Institute of Research and Psychology offers diploma programs in General , Clinical & Abnormal, Child & Adolescent, Organizational and Forensic Psychology. It also conducts a Higher National Diploma in Psychology that would lead to a B.Sc. in psychology from UK.
CIRP is working together with University of Hertfordshire, Cambridge University International Examinations and Edexcel International in offering qualifications. CIRP is recognized by Tertiary & Vocational Educational Commission of Sri Lanka and Maldivian Qualification Authority.