Easy Body Movement Gym in Moratuwa together with Zumba Sri Lanka held the Sri Lanka's first outdoor "Fitness Fiesta & Zumba Party" on the 15th of October 2011, which turned out to be a great success. More than thousand five hundred fitness lovers gathered at the Tyronne Fernando Stadium in Katubedda to participate and enjoy the event. "It was so wonderful to see the large number of people flocking together to participate", said Indira Sellapperuma the owner of Easy Body Movement gym. "People do care to keep fit, it was evident", added Dulani Sellapperuma who conducted an hour of Aerobics at the event. A huge thank you goes to Mr. Dharshan Ramasamy, together with his team who glamorously performed a vibrant Zumba session and kept the event alive. Tony Jayawardene who played an important role at the event is much appreciated by EBM gym, Zumba Sri Lanka and J C Events.
J C Events together with Easy Body Movement gym and Zumba Sri Lanka take this opportunity to thank Mr. Romesh Kaluwitharana who graced the occasion as the Chief Guest and Mr. Akalanka Ganegama who was the Guest of Honour, amidst their busy schedules their presence added colour to the event. "The contributions given towards the event by all our sponsors made this event a great success", said J C Events Partners. "We need to thank our Main Sponsor Medex Holdings (Pvt) Ltd. who believes in their tagline "Its your life", and supported to make this event a success", said Dharshi De Silva, Managing Director of J C Events.
Our sincere gratitude goes to both Print and Electronic Media Partners, who created awareness through publicity and created a hype to make this event a great success. Our Print Media partner, Sunday Times and Education Times and the Electronic Media Partners, ETV, EFM & Shree FM, reached out to a wide range of people and took the message across the country to make people aware of the importance of keeping fit.
Not forgetting our service sponsors, such as Ferrero, Nutella, E Vision, Keells, K Zone, TheDeafFrog and the Stall holders, along with our Hospital Service partner, Nawaloka Hospitals, who's presence added glamour and value to this event and made this event come true.
"Organizing and implementing the "Sri Lanka's first outdoor Fitness Fiesta & Zumba Party" was a great challenge", said Dharshi De Silva. "Making it a reality was our dream, and our tagline, "Inspire Create Deliver" was our motto, which took us through all the challenges to see the success of the event".
"People come first, and human race is important than anything else in the world, therefore introducing fitness and making people aware of keeping fit was a worthy cause. The unseen inspiration and the strength, which keeps us moving forward, teaches us life is important and people need to live with dignity", said J C Events Partners.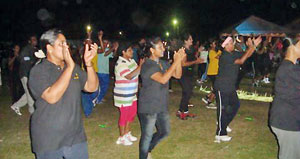 Crowd enjoy the Zumba session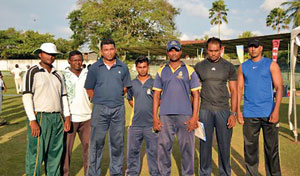 Tony & the Cricketers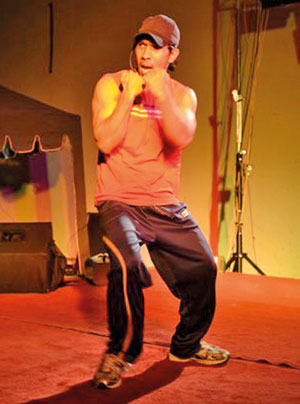 Manju Performing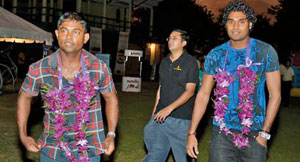 Romesh & Akalanka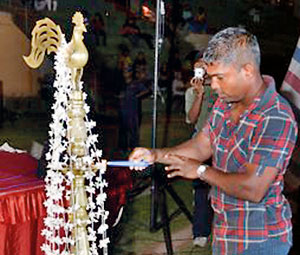 Romesh lighting the oil lamp