Wesley College Colombo emerged champions at the Under-15 Invition Schools Table Tennis Tournament organized by Ananda Sastralaya Kotte last week (Oct 29).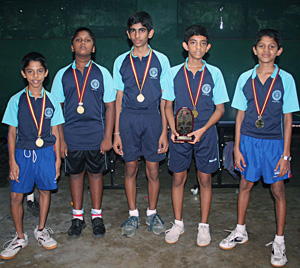 Wesley College emerge Under 15 TT Champions:
From left : Matheesha Wijeratne, Lithmina Mahanama, Manul De Silva, Senal Dahanayake (Captain) and Ashen Wijeratne
The champion team which comprised skipper Senal Dahanayake, Lithmina Mahanama, Manul de Silva, Matheesha Wijeratne and Ashen Wijeratne outclassed hosts Ananda Sastralaya to win the final by 3-2.
Mahanama and Dahanayake recorded wins in the singles games beating Pasindu and Kavishka respectively while they also won both doubles games. Skipper Dahanayake paired up with Ashen Wijeratne to win the first game at 2-1 beating Chathura and Navodh.
The scores were 11/5, 9/11 and 11/9. Lithmina Mahanama and Matheesha Wijeratne then got together to thrash Kavishka and Pasindu 2-0 when the victors recorded comfortable wins in straight sets at 11/3 and 11/8.
In the first round the victorious Wesley paddlers beat Dharmapala Pannipitiya (3-0), St. John's Nugegoda (3-0), Nalanda (3-1), Ananda Sastralaya (3-2) and D.S. Senanayake (3-0) to qualify for the semifinals. They beat St. Peter's College in the semifinal before meeting the hosts again in the final.
Wesley Under-11 paddlers emerged runners-up when they lost to Dharmapala Pannipitiya at 3-2 in the final. Promising paddler Naveesh Mahanama was the obvious star of the day when he helped his team with two wins, in the singles and doubles.
Dharmapala's Rusiru and Santhisha comfortably beat Sasindu Shihara and Anuk Fernando respectively in the singles before Naveesh Mahanama won the first game for Wesley by recording a 2-0 win.
In the first doubles game Shanthisha and Rusiru defeated Anuk and Kevin Jake 11/4 and 11/6 to win both sets easily. Naveesh and Sasindu took on Pasan and Jineth in the second doubles outing to record wins in both sets at 11/8 and 11/2.
In the group matches Wesley beat Ananda Sastralaya while losing to Dharmapala. In the semifinal Wesley met Nalanda and recorded a win at 3-1. The Under-13 age group championship was won by Nalanda College who beat St. Peter's College in the final. The Wesley table tennis team is coached by veteran Jothipala Samaraweera.
Under 11 Runners-Up:
Back row from left: Navin Indipa, Sasindu Shihara, Anuk Fernando, Kevin Jake, Naveesh Mahanama.
Seated from left Jothipala Samaraweera ( Coach ), J.C.F. Jayawardena Vice Principal, J.A.W Bandara ( Master Incharge ).- Pix by Dhammika De Silva