Professional examinations held in Sri Lanka either by British institutes or by local institutes with the British system are based on the subject matter applicable to British economy.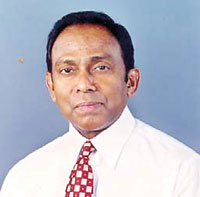 Daya Jayasinghe, DIC. (Lond), MSc. (London), CPA. FCCA., ACIS., MCMI. CEO/Director
Some subjects covered in these exams are not suitable and are almost totally irrelevant to Sri Lankan environment. This need not be the case anymore. At the Institute of Certified Public Accountants (ICPA) the curriculum is developed by local experts taking into account national and international requirements to meet the challenges of a complex, modern, national and international business environment and will equip members with the tools to rise to the top in any financially based career.
The ICPA programme is based on a complete reorientation of accounting education.
The structure, content, and scope of accounting educational programmes of the Institute are flexible and have incorporated new accounting concepts and applications of accounting in practice, and the emergence of new accounting methods and technologies.
It recognizes the need to develop the entering accountant's ability to think, communicate, solve problems, be comfortable with technology and numbers, possess people skills (interacting with clients and working as a team) and understand the nature and role of ethics.
ICPA provides members with an internationally reputed and recognised qualification, equal to the best international standard, and is committed to develop the accountancy profession in Sri Lanka to keep pace with accountancy professions throughout the world in accordance with the highest technical and ethical standards.
The CPA designation is the most widely used designation worldwide for professional accountants and enjoys wide international recognition. The CPA opens the doors to many exciting and rewarding possibilities.
ICPA Sri Lanka can help you fulfil your aspirations - Join us
With the rapid growth in economy, careers in finance and accountancy have gained importance and popularity. The demand for services of professional accountants is ever increasing and accountancy qualifications are considered the passport to securing a rewarding career. As a qualified accountant, one has the opportunity to pursue a variety of finance careers in private and public sectors, with the luxury of career mobility and the freedom to choose your own career path to gain the knowledge and skills required to rise to the top in your chosen field.
Many prospective accountants have continued to depend on British accountancy bodies for becoming professionally qualified accountants. Even today, students enrol in very large numbers for locally conducted professional examinations of these British professional accountancy bodies.