Diyathalawa Sri Janananda National School (Sri Janananda M.M.V.) celebrated its Centenary On 16th of August, 2011 with the great historic endowment. The school is situated in a beautiful and calm environment and equipped with a wide range of facilities and strengthen by a dedicated group of staff.
The school was established in 1911 under the leadership of Rev. Haputhalegame Sri Janananda Himi. Though the school was named as Haputhale Vidyalaya it became famous as Kadurugamuwa Vidyalaya among the society.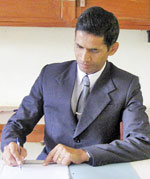 Sarath Chandrasiri (principal)
The first principal was Mr.P.S. Dias. In 1964 the school graded as a Maha Vidyalaya and in 1981 was converted to Madya Maha Vidyalaya. This was the golden era of the school and additional resources were given to the school. The former principal Mr. P.B.Rathnayake played a major role for the development of the school.
The school is blessed by strength of the former Education Minister, former speaker of the parliament and present governor of Subaragamuwa Province W.J.M.Lokubandara. All the principals in the past had done their best within their vision and abilities to improve the education and extracurricular activities of the school.
The students of Sri Janananda M.M.V. have been spreading their wings all over the country. The leading Educationist Professor Punchibandara Sannasgala, Professor W.M.Wijeratna of Kalaniya university, Professor W.D.Abeywansa of Peradeniya university, Professor R.M.Karunarathna of Sri Jayawardanapura university, Professor Chandani Liyanage of Colombo university are few of them. At present this is a 1 AB grade school with 700 students.
The present principal is Mr. G.W.Sarath Chandrasiri (SLPS I). This school has improved immensely in their curricular and extracurricular activities. This school has shown very good academic records in G.C.E.(O/L) and G.C.E.(A/L) examinations and its students have archived the highest grades in the district ranking. In G.C.E.(O/L) yearly over 60% of their students qualify for A/L's. In the G.C.E. (A/L)', the number of university entrants have increased in the recent years. Miss.H.M. Deepika is one of them who brought credit to the school by getting the 7th rank in Badulla District and presently she is an undergraduate.
The school is well organized according to the 5'S system. The teachers and students were always under the supervision of the principal. "Producing a reputed school by achieving the competencies in accordance with the challenges of the 21st century is the" the vision of the school. Pave a meaningful path to bring the school to the top in the Province and produce a well disciplined, skillful, religious and qualified citizens to the nation is the common goal of the administrators of the school.