Jonathan Weller Director International Admission University of Cincinnati (www.uc.edu) will be back inColombo on the 10th and 11th of November to visit Institute of Chemistry Ceylon (IchemC) and Sri Lanka Institute of Information Technology (SLIIT) two of its collaboration partners and to meet with many parents eagerly waiting to discuss admissions and financial aid for their children.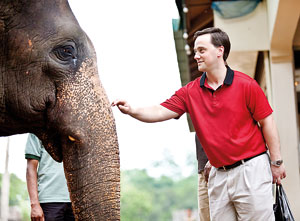 Jonathan greeting Neela at the Elephant Orphanage Pinnawela July '10.
Since its introduction to Sri Lanka in 2007 by Island's leading promoter of affordable US education Scholarships for USA (Pvt) Ltd (www.scholarshipsforusa.com) UC has made significant advances. It has recruited some of the brightest Lankan academics with amazing financial aid and generous credit transfers. University ofCincinnati is one of the rare American Universities who offer same recognition to Lankan A-Ls that they grant to London exams. What this means is that a student with good Lankan A-Ls stands the chance of saving up to an year in credit transfers.
What makes UC unique is its famed Cooperative Education (ranked #4 in the nation and the oldest) - providing students with most comprehensive professional preparation available by exposing them to career options and the professional world. This allows students to alternate semesters of rigorous academic study with semesters of paid, professional work in their field.
Even though US law only allows international students to work a maximum of 20 hours per week those who are enrolled in co-op can work full time (forty hours or more per week) during co-op semesters. UC works with over 1,500 partners including many fortune 500 corporations located from coast to coast including Apple Inc., General Electric, Proctor & Gamble, IBM, BMW, Pfizer, Macy's, Toyota etc.
This is what Joanna Lindamulage, placed by SUSA in fall 2009 to major in Chemical Engineering had to say about her coop experience at UC: "Today I am so proud to say that I'm working as a co-op Chemical Engineer in a leading international American company earning more than $ 4,000 per month. I am only in my third year in my bachelor's degree yet I support myself including tuition. My co-op employer was so impressed with my work that they have offered me full time work upon my graduation at the starting salary of $ 88,000/A".
Scholarships for USA is very proud of its association with UC. It has introduced to Sri Lanka a university ranked among the top 25 public universities for research in US with a campus rated as one of the most beautiful in the world by Forbes Magazine. UC has not only provided world class education but has prepared Lankans for employment at the most prestigious corporations of the world. Lankan community at UC has seen remarkable increase and currently it holds the 7thposition among the top ten countries.
UC has taken into account the rigors of Lankan A-Ls and has not hesitated to offer the same recognitions others only grant for international exams. But most of all it has understood the need to support Lankan students and institutions of higher educations byentering into collaboration agreements with some of the top educational institutions thereby cutting the cost of top US education by half.