Activated carbon manufacturer Haycarb PLC benefited significantly from overseas manufacturing and marketing operations as better margins from a focus on high value products, superior product quality, cost management and integrated global marketing efforts made 2009-10 a record year for the company.
According to a press release, Haycarb which is part of the Hayleys Group, more than doubled its profit before tax for the year ending 31 March 2010 and nearly tripled profit attributable to equity holders of the company. A significant contribution came from overseas manufacturing units in Thailand and Indonesia, coupled with marketing operations worldwide, the company said.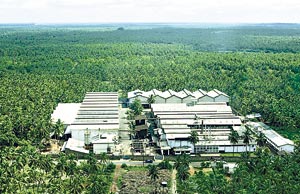 The Madampe factory
Haycarb reported 129% growth in pre-tax profit to Rs.819.8 million compared to Rs.358.7 million the previous year. Net profit increased by 146% to Rs.685.6 million in the period under review compared to last year. Profit attributable to equity holders of the company increased to Rs.632.9 million from Rs.225 million in 2008-09, a growth of 181%. Turnover grew in the current period by 12% to Rs.5,076 million.
Hayleys Group Chairman Mohan Pandithage described the performance as one of significant merit in the context of the global economic recessions. Haycarb Managing Director Rajitha Kariyawasan who was also quoted in the press release stated that reductions in oil prices helped to some extent to cushion the impact of higher input costs, particularly as a result of continually increasing prices of charcoal in Sri Lanka.
Mr. Kariyawasan added that the company is facing increasing competition to secure supplies of coconut charcoal and shells in Sri Lanka, as a result of stagnation in coconut cultivation and increasing demand for these materials for manufacture of activated carbon and energy generation. This has forced the company to import over 50% of its charcoal requirements at a higher cost and will remain an area of significant challenge in the years ahead.