Sri Lanka's world famous Galle Face Green will lose its allure when the over 150 year-old promenade - the largest green space in Colombo - is shibted to reclaimed land under a massive redevelopment plan by the government. The famous Galle Face Hotel will also become another dot in a massive city, without a seafront, when the development is completed.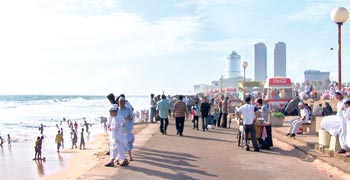 File picture of Galle Face Green.
Preliminary plans are underway to build a modern commercial town of about 500 acres by reclaiming 2 km of the sea from the Galle Face Green, a 5-hectare green patch created in 1859.
This new town will stretch and envelop the entire seafront from the southern border of the Colombo harbour upto Bambalapitiya, also about 2 km by road from the Green.
Economic Development Ministry sources said the 2km x 2km sea stretch will be reclaimed by filling to construct a modern city with skyscrapers, apartment blocks, shopping malls and other public needs, in a 3-year project ending in 2012.
The plan was first announced by President Mahinda Rajapaksa during the recent May Day rally. A senior ministry official said a feasibility and environment impact assessment study will be conducted before embarking on the project while the need to offer tax holidays and a 30-year lease on land to attract foreign investors is being considered.
Construction will be under the supervision of the Sri Lanka Ports Authority while the relevant agreements for the construction of the commercial town will be signed in the next few months.
A similar plan was included in the 'Regaining Sri Lanka' proposals in 2002, town planners said.