Lingerie and swimwear brand, amante, by MAS Holdings, is getting closer to Indian women on the back of Indo-Lanka duty waivers and a made-for-India sales strategy.
MAS says amante, its first own-brand product, is holding its own against competition from domestic and international brands retailing in India, and is even looking to expand shelf space. In 2009, amante sales doubled compared to 2008, and sales are expeted to grow 75% by the end of 2010, compared to 2009. The main customer profile for amante is the modern Indian woman between the ages of 25-45.
Made in the MAS factory, Unichela, located in Sri Lanka, amante enters India, using the free trade agreement (btA) between the two countries. Indo-Lanka btA concessions allow amante brand products to bypass duties of 9%-12% that normally hit bra's, brief's, swimwear and sleepwear exported into India.
"Since 2007, we have grown at the rate of 100% per year.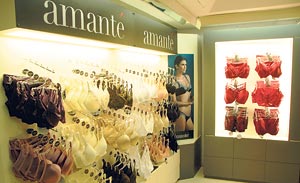 An amante display in an Indian store
This strong growth is mainly because we started from a zero base. But we have done very well in India, because although many international brands attempted India, very few have been successful," said the Managing Director of amante, and a Director of the MAS Holdings Main Board of Directors, Ajay Amalean.
MAS Holdings, now South Asia's largest supplier of niche-market, intimate wear for international brand names, launched amante, in India, in October 2007.
By now, amante has entered 23 Indian states and found shelf space in about 240 department stores and multi-brand lingerie outlets.
Amante's ability to win over Indian women is attributed to the brand's distinctly Indian flavour. MAS says amante products are made-to-measure for Indian women. The designs and styles are originally sourced from international fashion centres like New York, London and Paris and the finished products are made to international standards.
But the colours, shapes and designs for amante are adjusted to suit Indian preferences. "We measured Indian women for the correct fit and we developed colours and silhouettes they are comfortable with. We adjust the international colour palate to suit India. In the west, the colour palate is brighter. For India, the colours have been toned down to suit our skin tones," explained the head of the amante brand.
The special Indian colour palate, with names like Antique Rose, Grape and Floral Romance, is winning over Indian woman who tend to be more conservative than western women.This is on top of the everyday favourites - blacks, whites and skin tones.
amante is also priced to fit the Indian purse. Positioned as a 'value premium' product, amante lingerie and swimwear carry price tags in the range of 400 – 1,000 Indian rupees, which is seen as affordable and good value for money given the international quality of the products.
Amante's Coordinated Set was even nominated by an Indian consumer survey as 'Product of the Year,' this year, making amante the first lingerie product to win this award in India. MAS says it is looking at expanding amante's retail presence in India as the brand gradually carves out its own niche in the growing Indian retail sector.