The Board of Investment (BOI), under its new chairman Jayampathi Bandaranayake, plans to cut the red-tape investors face when trying to procure state land for their investments.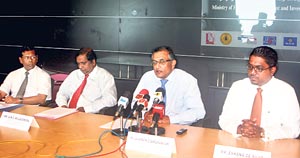 At the briefing
"The biggest issue (that investors face when trying to invest) is trying to secure land. We're trying to see how to unblock state land," he told the Business Times on the sidelines of his first press conference on Wednesday.
He said that now many ministries are clubbed together in a meaningful manner and that BOI together with relevant agencies is looking at how to harmonise their functions. "We are focussed on the same vision and we will operationalise it, because the issues with land will retard what is essentially possible," he added.
When asked whether his direction/strategies will take a different turn to that of former BOI chairman Dhammika Perera, he said that there will not be a 'radical shibt'. He also said the BOI is processing roughly US$ 500 million worth of fresh deals mainly in leisure and the plans for two investments zones in the north of the island is on. "We are targeting about a billion US dollars in foreign direct investments this year," Mr. Bandaranayake, a former chairman of the Ceylon Chamber of Commerce and currently non-executive chairman of Ceylon Tobacco, said.
According to BOI officials, the investment promotion agency has approved about Rs 55 billion in new applications mainly to the leisure sector. They also said that nearly $100 million in foreign direct investment had come into the country since the start of this year. Mr. Bandaranayake said the BOI was planning to open two investment zones in Mankulam and Kilinochchi in the Northern Province.